Kindle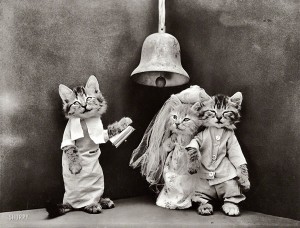 [Click for larger size.] At Shorpy Historical Photos, which is a wonderful thing on the internet:
1914. "Kittens in costume as bride and groom, being married by third kitten in ecclesiastical garb." Holy catrimony! Photo by Harry W. Frees.
More about Harry Whittier Frees: Wikipedia, here's Shorpy's archives of his work, and Amazon has books of his work.
Boing Boing editor/partner and tech culture journalist Xeni Jardin hosts and produces Boing Boing's in-flight TV channel on Virgin America airlines (#10 on the dial), and writes about living with breast cancer. Diagnosed in 2011. @xeni on Twitter. email: xeni@boingboing.net.
More at Boing Boing