Kindle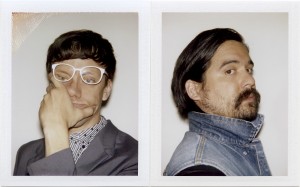 Sound it Out # 58: Man Man - "Head On" (free MP3)
Philly band Man Man's fifth record On Oni Pond finds singer (and main songwriter) Honus Honus collaborating with drummer Pow Pow. The record, out on September 10, is quirky and optimistic and has a charming appeal that feels like an evening at a carnival.
"Head On" is the first new Man Man song in a couple of years. It's got a fetching string section, plucky piano, and a singalong chorus that relentlessly sticks in your brain. Download it below!
Read more in Music at Boing Boing
Amy worked in the record business at Enigma, Elektra, Virgin and Sub Pop before she got sucked into the technology vortex. She co-founded the Backwards Beekeepers, a chemical-free urban beekeeping collective in Los Angeles. She runs digital marketing for the Los Angeles Philharmonic and The Hollywood Bowl.
More at Boing Boing