Kindle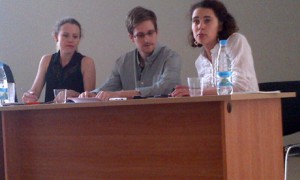 Russia's FSB security agency is in talks with the FBI over over 30-year-old former NSA contractor Edward Snowden, but the Kremlin is not involved, according to Kremlin spokesperson Dmitry Peskov.
He said at a press conference yesterday
that Putin reiterates "strong determination" not to let Russia's relationship with the US suffer over the matter, "no matter how the situation develops," and that Russia "did not hand over, does not hand over and will not hand over anybody". Snowden is
reportedly still inside the transit zone
at Moscow's Sheremetyevo airport. (HT:
Aileen Graef
)
Boing Boing editor/partner and tech culture journalist Xeni Jardin hosts and produces Boing Boing's in-flight TV channel on Virgin America airlines (#10 on the dial), and writes about living with breast cancer. Diagnosed in 2011. @xeni on Twitter. email: xeni@boingboing.net.
More at Boing Boing