Kindle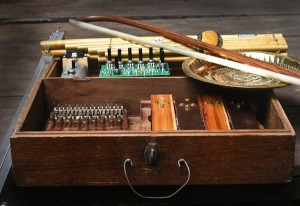 Above, one of the exquisite hand-made acoustic/electronic instruments played by the late, great Peter "Sleazy" Christopherson of Coil and Throbbing Gristle. Many more at Pacmasaurus's Flickr set of "
UnkleSleazy's Instruments
."
(via @chris_carter_)
Read more in Music at Boing Boing
David Pescovitz is Boing Boing's co-editor/managing partner. He's also a research director at Institute for the Future. On Instagram, he's @pesco.
More at Boing Boing