Kindle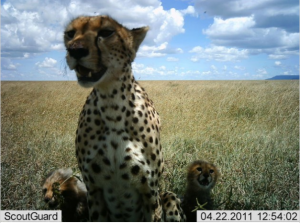 This great shot of a cheetah family comes from the Serengeti camera traps set up by University of Minnesota researcher Ali Swanson. The cameras are activated by heat and motion, and Swanson uses the help of citizen scientists to sort through the many, many pictures and identify species — a process that helps the scientists learn how those other big animals interact with the prides of lions that live in Tanzania's Serengeti National Park.
Check out some other great photos from the camera traps at Minnesota Public Radio's Daily Circuit blog. (I'm a big fan of the dueling buffalo.)
Head to Snapshot Serengeti to help scientists learn about how animals live.
Maggie Koerth-Baker is the science editor at BoingBoing.net. She writes a monthly column for The New York Times Magazine and is the author of Before the Lights Go Out
, a book about electricity, infrastructure, and the future of energy. You can find Maggie on Twitter and Facebook.
Maggie goes places and talks to people. Find out where she'll be speaking next.
More at Boing Boing