Kindle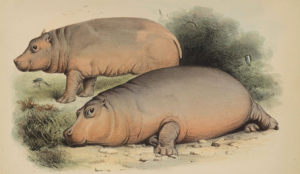 These coy hippos come from a 19th century illustration in The Proceedings of the Zoological Society of London. They're now part of a new book, published by New York's American Museum of Natural History, that combines some of the best illustrations and artworks from the museum's rare book collection. Looks like a great read!
Maggie Koerth-Baker is the science editor at BoingBoing.net. She writes a monthly column for The New York Times Magazine and is the author of Before the Lights Go Out
, a book about electricity, infrastructure, and the future of energy. You can find Maggie on Twitter and Facebook.
Maggie goes places and talks to people. Find out where she'll be speaking next.
More at Boing Boing