Kindle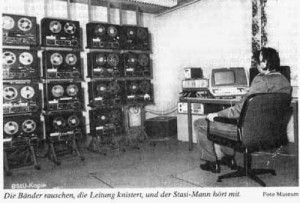 In Harpers, 2007, Scott Horton wrote:
Known for his biting satire and his dedication to Socialism, [dissident East German songwriter Wolf Biermann] chronicled his life under surveillance with a powerful sense of humor, and nowhere better than in the "Stasi Ballad" from 1974, with its classic refrain – "Die Stasi ist mein Eckermann."

That is a reference to the German poet Johann Peter Eckermann, who patiently chronicled the utterances of that Olympian figure of German literature, Johann Wolfgang Goethe – ultimately published in Goethe's Conversations With Eckermann in the Last Years of His Life, which Nietzsche called the "greatest work in the German language". Here is an English rendition:

I feel a common humanity
With the poor Stasi dogs,
Required to sit through snow and downpours of rain
Tediously listening to me through the
Microphone they have installed
Which catches every sound,
Songs, jokes and soft curses
Sitting on the toilet and in the kitchen
Brothers from state security – you alone
Know all my troubles.

You alone can attest,
How my whole human effort
Is committed with passionate tenderness
And zest to Our Great Cause.
Words which otherwise would be lost,
Are captured firmly on your tapes,
And – I'm sure of it – now and again
You sing my songs in bed.
I sing my gratitude to you,
Stasi is my Ecker,
Stasi is my Ecker,
Stasi is my Eckermann.

Note: He is Nina Hagen's father.
Boing Boing editor/partner and tech culture journalist Xeni Jardin hosts and produces Boing Boing's in-flight TV channel on Virgin America airlines (#10 on the dial), and writes about living with breast cancer. Diagnosed in 2011. @xeni on Twitter. email: xeni@boingboing.net.
More at Boing Boing