Kindle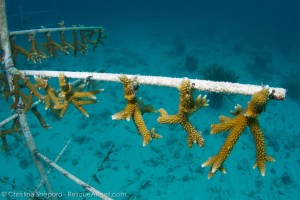 I'm totally fascinated by this photo that the R.J. Dunlap Marine Conservation Program posted to their Facebook page. It shows little branches of staghorn coral growing on a "tree" made of PVC pipes. Harvested from wild coral colonies when they're only 5 cm long, these samples will double in size every two months while attached to the tree. Once they've put on enough heft, they're transplanted to new homes on damaged coral reefs, where they grow into the surrounding environment and help to restore ecosystems that could otherwise be lost. I'd heard about coral restoration before, but had never seen pictures of the process. At the RJD website, you can see a series of photos that take you through it step-by-step. Perhaps unsurprisingly, it looks a lot like underwater gardening — similar to grafting fruit trees.
Maggie Koerth-Baker is the science editor at BoingBoing.net. She writes a monthly column for The New York Times Magazine and is the author of Before the Lights Go Out
, a book about electricity, infrastructure, and the future of energy. You can find Maggie on Twitter and Facebook.
Maggie goes places and talks to people. Find out where she'll be speaking next.
More at Boing Boing