Read more at Boing Boing
Read more at Boing Boing
Read more at Boing Boing
---

Michael from Muckrock sez, "The problems with various government watch lists, particularly the TSA's, are well known, but a new release of documents shows just how problematic large-scale government tracking can be: A recent FOIA request to the FBI for the files on late Irving Adler, activist, turned up plenty of reading material, but it was about the wrong Irving: An examination of documents showed that the files another Irving Adler, an Army veteran, found himself on the wrong end of intense questioning despite universal assertions that he was a 'loyal and patriotic American."
The investigations hounded the second Irving for four years until the FBI realized it was watching the wrong man, and the boring Irving ultimately only cleared himself when it was shown he was serving abroad during the time the FBI thought he was in Long Island.
Surely these kinds of mistakes won't happen with modern databases.
Even in the 40s, FBI struggled to keep its watch list straight (Thanks, Michael!)
---
Leilani Franco is in the new Guinness World Records 2014 Book for three records as a contortionist. "She's accomplished the most full body revolutions maintaining a chest stand in one minute (25), performed the fastest human backbend walk (20 meters in 10.05 sec), and traveled the fastest 20 meters in a contortion roll (17.47 sec)."
---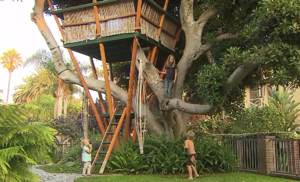 The widow of a man who built a bamboo treehouse in Venice, CA says her complaint about the proliferation of "McMansions" in her neighborhood led to an order from the City of LA to demolish the beloved structure.