Kindle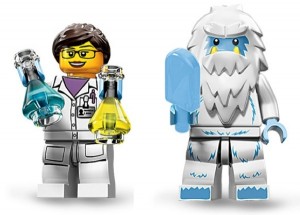 LEGO's new Minifgure Series 11 includes its first female
(lab)
scientist
character and a
Yeti
. Both are excellent additions to the minifig universe! I also appreciate that the scientist is holding Erlenmeyer flasks while the Yeti is gripping a popsicle.
UPDATE: Maia Weinstock writes that she "she's not the first (LEGO) female scientist... she's the first female LAB scientist." More background in Maia's SciAm piecec, "Breaking Brick Stereotypes: LEGO Unveils a Female Scientist"
David Pescovitz is Boing Boing's co-editor/managing partner. He's also a research director at Institute for the Future. On Instagram, he's @pesco.
More at Boing Boing