Kindle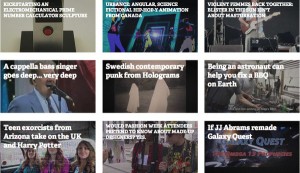 Some of the most recent video selections you can find on our video archive page:
• A cappella bass singer goes deep... very deep
• A young adult romance told entirely on computer screens
• Swedish contemporary punk from Holograms
• Being an astronaut can help you fix a BBQ on Earth
• Teen exorcists from Arizona take on the UK and Harry Potter
• If JJ Abrams remade Galaxy Quest
• Eating hot peppers and reviewing video games
• A contortionist who holds three world records
• Parisian stop-motion music video violates anti-burqa law
Boing Boing editor/partner and tech culture journalist Xeni Jardin hosts and produces Boing Boing's in-flight TV channel on Virgin America airlines (#10 on the dial), and writes about living with breast cancer. Diagnosed in 2011. @xeni on Twitter. email: xeni@boingboing.net.
More at Boing Boing