Kindle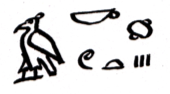 These are the ancient Egyptian hieroglyphs that are thought to refer to acne. They're part of a nifty piece by Hilda Bastian that looks at the history of our understanding about zits — where people thought they came from before we knew about their relationship to hormones and bacteria. And how some of the myths that originated in that pre-scientific understanding still affect our cultural attitudes about acne and the way anti-acne products are marketed to us today.
Maggie Koerth-Baker is the science editor at BoingBoing.net. She writes a monthly column for The New York Times Magazine and is the author of Before the Lights Go Out
, a book about electricity, infrastructure, and the future of energy. You can find Maggie on Twitter and Facebook.
Maggie goes places and talks to people. Find out where she'll be speaking next.
More at Boing Boing