Kindle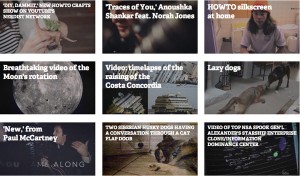 Some of the most recent video selections you can find on our video archive page:
• Breathtaking video of the Moon's rotation
• HOWTO silkscreen at home
• Righting the Costa Concordia
• 'New,' from Paul McCartney
• 10 NYPD OWS arrests in less than 90 minutes
• Lazy dogs
• Talkative dogs
• Anoushka Shankar and Norah Jones
Boing Boing editor/partner and tech culture journalist Xeni Jardin hosts and produces Boing Boing's in-flight TV channel on Virgin America airlines (#10 on the dial), and writes about living with breast cancer. Diagnosed in 2011. @xeni on Twitter. email: xeni@boingboing.net.
More at Boing Boing