Kindle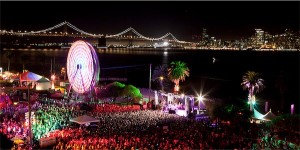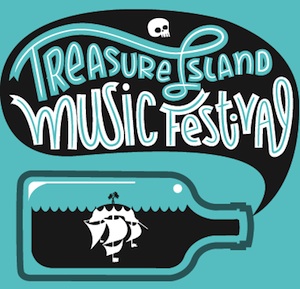 The sound extravaganza known as the Treasure Island Music Festival will again surface in the San Francisco Bay on October 19 and 20. This year's line-up of two dozen performers features the likes of Atoms For Peace, Beck, Major Lazer, Animal Collectiv, Sleigh Bells, and Tricky. I'm personally jazzed to check out Atoms For Peace ('natch), Phantogram, and STRFKR! Want to attend the festival in style? The good people at Noise Pop, co-promoters of the event, have supplied a pair of VIP 2-Day Tickets (a $550 value) to give to Boing Boing readers! VIP includes a nice viewing area beside the main stage, tented lounge with full bar, access to special VIP food sellers, and private restroom facilities (yay!). To win them, we are continuing our now-annual tradition of a Treasure Island Music Festival Haiku contest! Here's what to do:
Write a Haiku about your favorite band performing at the festival. Here's the full line-up. The Haiku must consist of three lines, with the first line containing 5 syllables, the second containing 7 syllables, and the third line containing 5 syllables. Then post your Haiku to the Boing Boing BBS forum. You have until 11:59pm PDT on Tuesday (9/23). We'll pick our favorite Haikus and email you at the address you used to create your forum account. (Or you can list an alternate address in your entry.) On Thursday (9/26), I'll post our three finalists who will each receive a Boing Boing t-shirt! On Tuesday (10/1), I'll announce the winner. Please only one entry per person. Good luck!!!
Read more in Music at Boing Boing
David Pescovitz is Boing Boing's co-editor/managing partner. He's also a research director at Institute for the Future. On Instagram, he's @pesco.
More at Boing Boing