Kindle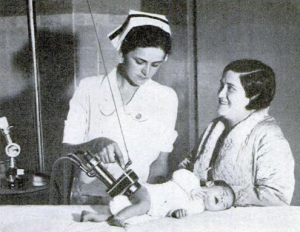 Popular Science has a great (and occasionally horrifying) slideshow of gadgets it once suggested were essential for enlightened, tech-minded parents. A lot of the inventions merely look way sketchy. For instance, the infant-sized "sleeping porch" that is actually a screened box bolted into an apartment window frame is probably mounted well enough that it's not going to kill anybody. It's just that, from the vantage point of a 100 years later, it seems a little disturbing to stick your baby into something that looks like a large AC window unit.
Other suggestions, though, are legitimately concerning. Above, you can see an image of a nurse "branding" a newborn by essentially sunburning its parent's initials onto its flesh with a UV lamp. In 1938, somebody thought this would be a good way to ensure that nobody left the hospital with the wrong baby.
Maggie Koerth-Baker is the science editor at BoingBoing.net. She writes a monthly column for The New York Times Magazine and is the author of Before the Lights Go Out
, a book about electricity, infrastructure, and the future of energy. You can find Maggie on Twitter and Facebook.
Maggie goes places and talks to people. Find out where she'll be speaking next.
More at Boing Boing