A Cold Season - excerpt from a new horror novel
Read more at Boing Boing
Read more at Boing Boing
Read more at Boing Boing
---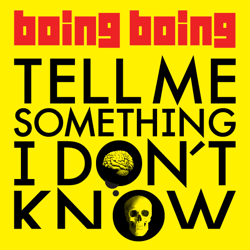 Peter Bagge and Evan Dorkin began making alternative comics in the 1980s.
Peter Bagge began his career on R. Crumb's Weirdo magazine as a cartoonist and then editor.
---
I dig this hallucinatory faux 19A0s TV commercial for Jacob 2-2's new album "Herbivore," from King Deluxe Records. Video designed and animated by Jacob 2-2 and Samuel Rhodes with photography by Miguel Drake-McLaughlin.
---
Robot Turtles is "a board game you play with your favorite 3 to 8-year-old that sneakily teaches programming fundamentals." Created by entrepreneur Dan Shapiro and inspired by classic kids' programming language Logo, the board game lets kids ages 3-8 write programs with colorful playing cards.