Kindle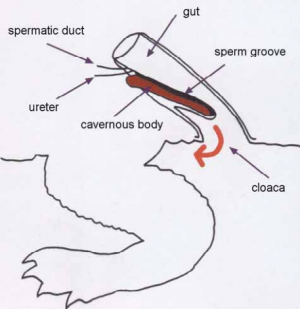 Can you properly distinguish between a male and female crocodile? This research paper, published in 2007, will help — pointing out the sometimes subtle differences between external genitalia. It's chock full of pictures of erect crocodile penises, so you'll learn what those look like, but what particularly interested me was the diagram above.
Cloacas are sort of multi-purpose orifices found in certain species of birds and reptiles. Instead of having separate biological tools for poop, pee, and sex, these animals manage all three functions with the same hole. Males also have cloacas and will either have a penis or pseudo-penis that comes out of it for mating. I've known this for a long time, but had a lot of trouble picturing how all of that anatomy fits together. This diagram (Figure 4 in the paper) is the first image that made the internal structure of cloacas really make sense to me. The more you know!
Maggie Koerth-Baker is the science editor at BoingBoing.net. She writes a monthly column for The New York Times Magazine and is the author of Before the Lights Go Out
, a book about electricity, infrastructure, and the future of energy. You can find Maggie on Twitter and Facebook.
Maggie goes places and talks to people. Find out where she'll be speaking next.
More at Boing Boing