Kindle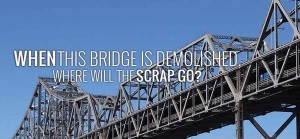 When the newly-replaced Oakland span of the San Francisco-Oakland Bay Bridge is demolished in the next few years, the scrap will be sent to China. David Grieshaber has other plans for it. He's launched BayBridgeHouse.org, an effort to recycle just a bit of the material into a house and multi-use space.
The project plans to build one of the most advanced eco sustainable houses to date, using recycled pieces of the bridge as the structure of the building. We are looking for creative out of the box designs that preserves the historic look and some design elements of the Bridge. Concrete, steel and glass, we do not intend to use any wood and plaster as a building material. The designs must utilize as much of the old bay bridge in the design as possible. This includes trusses, steel I-beams, steel girders, steel plates, wires, gates, fencing, ladders, walkways, concrete, and any other parts associated with the bridge. The location of the house will have a view of the New Bay Bridge.
Bay Bridge House
(thanks, Jason Tester!)
David Pescovitz is Boing Boing's co-editor/managing partner. He's also a research director at Institute for the Future. On Instagram, he's @pesco.
More at Boing Boing