Kindle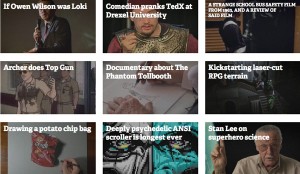 Some of the most recent video selections you can find on our video archive page:
• Archer does Top Gun
• If Owen Wilson was Loki
• Comedian pranks TedX at Drexel University
• Painter snorts watercolor
• Documentary about The Phantom Tollbooth
• Deeply psychedelic ANSI scroller is longest ever
Boing Boing editor/partner and tech culture journalist Xeni Jardin hosts and produces Boing Boing's in-flight TV channel on Virgin America airlines (#10 on the dial), and writes about living with breast cancer. Diagnosed in 2011. @xeni on Twitter. email: xeni@boingboing.net.
More at Boing Boing