Kindle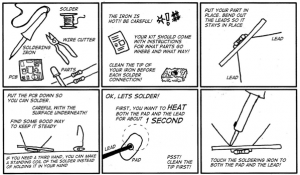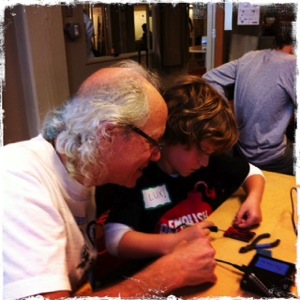 Mitch Altman, inventor of TV-B-GONE and co-founder of San Francisco's Noisebridge hacker space, is a master maker and educator who finds great joy in teaching people of all ages how to get creative with electronics. At last year's Science Hack Day SF, Mitch taught my 7-year-old son how to solder and he's been at it ever since, making increasingly-complicated kits from Mitch's Cornfield Electronics, Maker Shed, and Evil Mad Scientist Laboratories. Mitch even taught a weeklong Creative Electronics camp for elementary school kids at my son's school over the summer and it was a huge hit. If you (or your kids) want to learn to solder too, I highly recommend the "Soldering Is Easy" comic book (PDF) that Mitch created with Andie Nordgren and Jeff "mightyohm" Keyzer. You can download the free PDF in multiple languages from Mitch's site. And there's also a single-page "Soldering Is Easy" reference sheet too. Thanks for all that you do to inspire young makers, Mitch!
"'Soldering Is Easy' and other DIY projects!"
David Pescovitz is Boing Boing's co-editor/managing partner. He's also a research director at Institute for the Future. On Instagram, he's @pesco.
More at Boing Boing