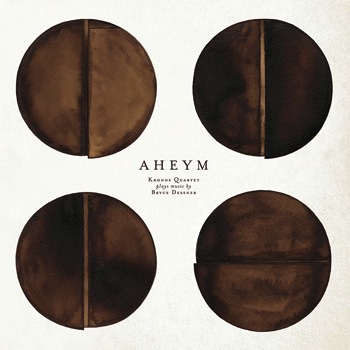 Bryce Dessner is the guitarist of one of my favorite bands of today, The National. What may come as a surprise is that Bryce is also a well-respected, Yale-trained composer of contemporary classical music, and very active in that scene. Indeed, he curates Cincinnati's MusicNOW Festival of contemporary classical artists that has featured musicians ranging from Steve Reich and Bang On A Can All-Stars to Sufjan Stevens and Kronos Quartet. Last week, Kronos Quartet released a magnificent LP of four of Bryce's compositions, titled Aheym. As I previously posted, it is truly marvelous. I had the opportunity to meet with Bryce over the summer and we talked about his influences (and collaborators) who just happen to include some of my favorite avant-garde composers like Reich, Terry Riley, Philip Glass, and John Cage. I couldn't help but ask Bryce for his list of favorite contemporary works and he was kind enough to create this annotated guide for me, and you. - David Pescovitz
My Favorite Contemporary Works
by Bryce Dessner
Arvo Part 'Pari Intervallo'
A simple chord progression on the organ with a repeating slow arpeggio pattern. This piece is emblematic of beautiful economy in Arvo Part's music:
Steve Reich 'Music for Eighteen Musicians' (original recording on ECM)
This is Reich's classic in my opinion. An hour of pulsing harmony:
Steve Reich 'Electric Counterpoint'
I always reference this piece when people ask me about my classical background and playing in a rock band. I like to say that Reich's electric counterpoint for multiple electric guitars is as influential on my guitar playing as any 'classic rock' guitarist. Here's Johnny Greenwood from Radiohead performing it:
Philip Glass 'Closing Piece'
I performed this piece from Glass Works on tour with Philip almost ten years ago. It is as memorable as any pop song, so simple and haunting:
Britten Sea Interludes, 3 'Moonlight' from Peter Grimes
The four Sea Interludes from the Peter Grimes opera are some of the most beautiful music of the 20th-century. If you don't know Britten, this is a good place to start:
John Zorn 'Kol Nidre'
Also written for Kronos. Zorn is one of the most influential composers/musicians and his music is incredibly diverse. This piece written on the Yom Kippur prayer of Kol Nidre is one of my favorites:
David Lang 'So Called Laws of Nature'
Lang's masterpiece written for So Percussion. Like everything David does, its incredibly challenging to play but also somehow it sounds elegant and effortless:
Nico Muhly 'Skip Town'
This piece is one of many that I love by my friend Nico Muhly. It has this beautiful geometry about it and quirky rhythms which Nico does so well:
John Luther Adams 'For Lou Harrison'
One of my favorite composers, he lives in Alaska and his music is deeply inspired by the natural world around him. This piece he composed for Lou Harrison, another great west coast American Composer. It cycles through chord patterns in this seamless expanding process, like waves coming in from the sea:
Witold Lutoslawski 'Musique Fenebre'
One of my favorite String Orchestra pieces, its scored for 10 different string parts and has a stark beauty to it. It was written in memory of Bela Bartok and the whole piece has these transparent processes going on which somehow amount to something very subtle and mysterious:
John Cage 'String Quartet in Four Parts'
One of Cage's pieces I can listen to endlessly, especially the recording by the Arditti Quartet. Written using his chance methods, the piece was also dedicated to Lou Harrison whom he knew from his Black Mountain College days:
John Adams 'Shaker Loops'
One of his masterpieces and one of the greatest works for String Orchestra. He is able to get so many different textures and subtle effects out of the strings, and the score itself is a thing of beauty. The original recording with the San Fransisco Symphony is my favorite. (The version below is from a recent New Albion Records release. - ed.):
http://www.youtube.com/watch?v=45fnUiGREwU
Published 10:00 am Mon, Nov 11, 2013
About the Author
Bryce Dessner is the guitarist for The National, founder of the MusicNOW Festival, and a world-renowned composer who has collaborated with Kronos Quartet, Philip Glass, and Steve Reich.