Kindle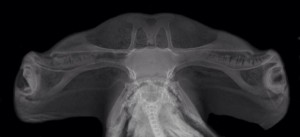 Last week, scientists described a new species of hammerhead shark, the Carolina hammerhead. Though slightly smaller than the scalloped hammerhead species it was previously thought to be a part of, the Carolina hammerhead was ID'd as something different with the help of DNA samples, not visual descriptions. This, courtesy shark blogger David Shiffman, is the Carolina hammerhead's head, in beautiful x-ray vision.
Maggie Koerth-Baker is the science editor at BoingBoing.net. She writes a monthly column for The New York Times Magazine and is the author of Before the Lights Go Out
, a book about electricity, infrastructure, and the future of energy. You can find Maggie on Twitter and Facebook.
Maggie goes places and talks to people. Find out where she'll be speaking next.
More at Boing Boing