Kindle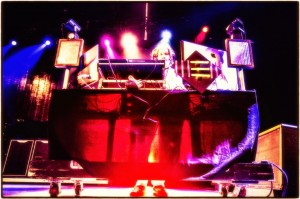 DJ Chris Holmes, who works with Paul McCartney and often performs deejay sets as an opening act for "Macca's" live shows, shares a real gem with us: a Soundcloud mix to beat them all. Chris says:
I finally had some time to put together a mix for all of you who've been asking over the years of my beatles/mccartney stuff for tour. It's about 2hrs long. I hope you enjoy. I've had the best time in the history of the world making the tracks and putting it together.

It starts off at 88bpm and speeds up until it loops around at 176 (88bpm) completing the cycle.

It's the first time I've shared this stuff in bulk, I hope you all enjoy it.

Here is four years of my Beatles/macca mixes.

I am the opening act for Paul McCartney (paulmccartney.com). This a collection of some of my favorite remixes I've made over the 4 years touring with paul. I want to thank Brian Liesegang and Cory Nitta for help tweaking and ironing out a bunch of these mixes and most importantly Paul McCartney and his amazing crew for giving me the opportunity to be able to play with him on tour. It is the best job, with the nicest boss in the world.

here is a tracklisting though most of the songs are my own personal and ashtar command mixes (brian liesegang, cory nitta)

1. venus and mars -langley school project
2. i've got a feeling -beatles
3. come together-ashtar parallel remix
4. why don't we do it in the road -beatles
5. get back- deirdre wilson tabac
6. uncle albert/admiral hamlsey- wings
7. no more lonely nights- paul mccartney
8. b side to seaside- paul and linda mccartney
9. seaside woman- paul and linda mccartney
10. carry that weight- dobby dobson
11. monkeyberry moon delight- screaming jay hawkins
12. memphis- the beatles
13. we can work it out- stevie wonder
14. hey bulldog (erol alkan edit)= beatles
15. say say say- paul mccartney and michael jackson
16. with a little luck- wings
17. goodnight tonight- wings
18. inner light/rain- beatles
19. here comes the sun- charles wright
20. i want to hold your hand- al green
21. getting better all the time- the beatles
22. silly little love songs/temporary secretary- paul mccartney
23. you can't do that- the supremes
24. la jour, la nuit- stone
25. help- dolly parton
26. tomorrow never knows- junior parker
27. daytripper- vontastics/nancy sinatra
28. paperback writer- rb greaves/beatles
29. i saw here standing there- little richard
30. Komm, Gib Mir Deine Hand (I Want To Hold Your Hand)- beatles
31. taxman- don randi/beatles
32. ticket to ride- wee willie walker
33. please please me- mary wells
34. hard days night- otis redding
35. ballad of john and yoko- the electric cow goes moog
36. blackbird- r sweat and the paragons
37. back in the ussr- chubby checker
38. check my machine- paul mccartney
39. don't let me down- charlotte dada
40. hey jude- overton berry trio/beatles
Read more in Music at Boing Boing
Boing Boing editor/partner and tech culture journalist Xeni Jardin hosts and produces Boing Boing's in-flight TV channel on Virgin America airlines (#10 on the dial), and writes about living with breast cancer. Diagnosed in 2011. @xeni on Twitter. email: xeni@boingboing.net.
More at Boing Boing