Kindle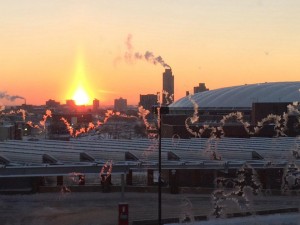 My friend Austin took this photograph last week, looking out his office window near the Metrodome in downtown Minneapolis. That flare in the distance isn't Photoshop. Nor is it the nuclear annihilation of St. Paul. Instead, it's a sun dog — an atmospheric phenomenon that happens when light from the Sun is refracted off of ice crystals in the air. The light gets bent as it passes through the crystals and we see the bright flash of a "false sun" to the side of the actual Sun. The same process can also form rings around the Sun. Whether you get a halo or a sun dog depends on which way the ice crystals are oriented in relation to you.
Maggie Koerth-Baker is the science editor at BoingBoing.net. She writes a monthly column for The New York Times Magazine and is the author of Before the Lights Go Out
, a book about electricity, infrastructure, and the future of energy. You can find Maggie on Twitter and Facebook.
Maggie goes places and talks to people. Find out where she'll be speaking next.
More at Boing Boing