Kindle
SPONSORED: The following post is brought to you by Kohler.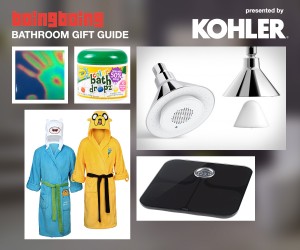 Bathroom enhancements for the discerning restroom aficionado with a penchant for high technology, deep geekery, and wet whimsy:
• Kohler Moxie Showerhead and Wireless Bluetooth Speaker Music to accompany even the most accomplished shower-singer! This showerhead packs bluetooth connectivity to an embedded speaker!
• Crayola Bath Dropz Make bathing a bright and colorful experience, add color to your bath water!
• Adventure Time Fleece Bathrobes Perfect for wearing around the treehouse early in the morning. Wearing one of these, you'll always turn out perfect bacon pancakes.
• Fitbit Aria Wi-Fi Smart Scale The Fitbit tracker gives you a wonderful idea of how much energy you burn. This wifi enabled scale syncs your weight with your activity data and makes fitness 'smarter.'
• Temperature Sensitive Color Changing Tiles Touch the tiles to make them change color!
Happy holidays!