Read more at Boing Boing
Read more at Boing Boing
Read more at Boing Boing
---
Two mutually exclusive ideas are often voiced: first, that Apple's a shameless thief, and second, that its products are revolutionary. The truth--and the crux of the company's genius for design--lies in-between.
---

One year ago today Freedom of the Press Foundation launches: crowdsourcing funding for transparency and accountability: Dedicated to helping promote and fund aggressive, public-interest journalism focused on exposing mismanagement, corruption, and law-breaking in government.
---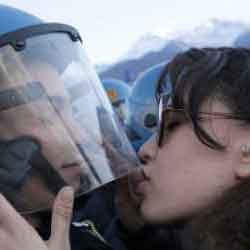 Don't make fun of power.
"Franco Maccari, the Secretary General of Coisp, the Italian police officers' union, said during an interview on Radio24 that he had pressed charges against the demonstrator who kissed an officer's helmet.