Kindle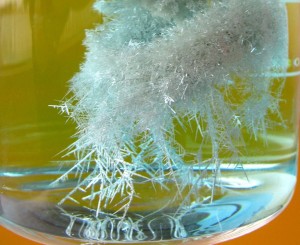 This is a picture of a Diana Tree — a formation of crystalized silver made from a reaction between mercury and silver nitrate. You can do something very similar with gold, according to a story in Smithsonian magazine about the real chemistry done by the alchemists of 17th century Europe. They couldn't magically create gold, but that doesn't mean the reactions they were producing were just made up. It's a great look at the origins of modern chemistry.
Image: ΛΦΠ via CC
Maggie Koerth-Baker is the science editor at BoingBoing.net. She writes a monthly column for The New York Times Magazine and is the author of Before the Lights Go Out
, a book about electricity, infrastructure, and the future of energy. You can find Maggie on Twitter and Facebook.
Maggie goes places and talks to people. Find out where she'll be speaking next.
More at Boing Boing