Kindle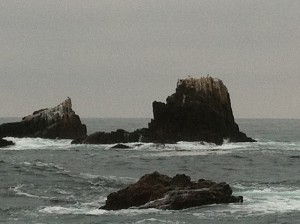 From the first section of the 1856 Guano Islands Act:
Whenever any citizen of the United States discovers a deposit of guano on any island, rock, or key, not within the lawful jurisdiction of any other Government, and not occupied by the citizens of any other Government, and takes peaceable possession thereof, and occupies the same, such island, rock, or key may, at the discretion of the President, be considered as appertaining to the United States.
Or, as my friend Andrew put it: If you find an island with bird poop on it you can claim it for the USA.
Image: Guano Covered Rocks, a Creative Commons Attribution Share-Alike (2.0) image from wlscience's photostream
Maggie Koerth-Baker is the science editor at BoingBoing.net. She writes a monthly column for The New York Times Magazine and is the author of Before the Lights Go Out
, a book about electricity, infrastructure, and the future of energy. You can find Maggie on Twitter and Facebook.
Maggie goes places and talks to people. Find out where she'll be speaking next.
More at Boing Boing