Frontier takes over Verizon's network, complaints fall by 68%
Since 2010, the lucky people of West Virginia have gotten their local phone/Internet service from Frontier Communications, who bought the business from noted shit-shovelers Verizon. In a mere four years,
complaints about phone service have plummeted by 68 percent
, and
88 percent
of their customers now have access to broadband. The company has also installed a 2,600-mile-long fiber loop. There is nothing intrinsic about operating a phone network that makes your company into a horror-show, but once the telcos get big, they turn into some of the worst companies in the world.
Read more at Boing Boing
Read more at Boing Boing
Read more at Boing Boing
---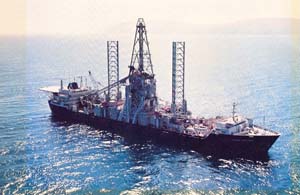 This is the Hughes Glomar Explorer, a ship that's as important to the history of engineering as it is to the history of insanely crazy Cold War CIA schemes.
---
Spherical Harmonics dwells on the ineluctably CGI-like qualities of even the most realistic CGI imagery. It is a hermetically sealed fantasy, full of digitally created memories, counterfeit physics and controlled accidents.
---
Tom the Dancing Bug, IN WHICH Nate the Wonder Pundit definitively disproves Global Warming. Q.E.D.