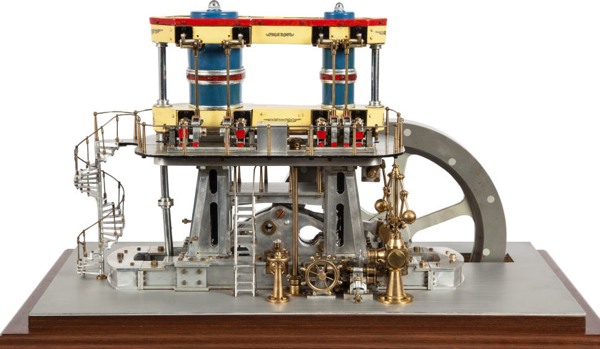 Leavitt Pumping Engine. Very finely built and presented vintage exhibition model of a massive American steam powered waterworks pump designed by Erasmus Darwin Leavitt circa 1895. Model has exceptional detail and is expertly finished with complex gearing operated by a central ship's wheel. Presented on wood stand with table base. Estimate: $3,000 - $5,000.
Check out the preview photos for this Heritage auction of magnificent mechanical models. Given the amount of time and skill that went into the construction of these hand-made machines, the estimated value seems ridiculously low. (If craftsmanship isn't your thing, you might be able to pick up a Cy Twombly masterpiece for under $1 million.)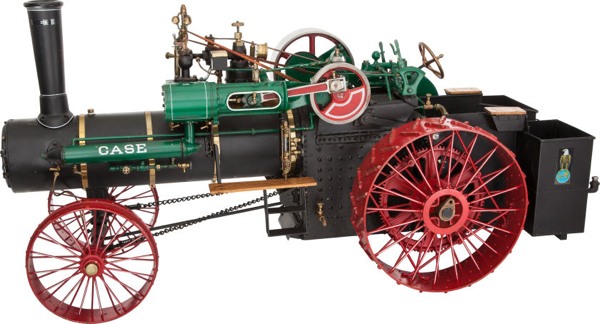 Steam Tractor. Finely built and detailed operational 1.8 scale metal model of a steam tractor built by the Jerome I. Case Threshing Machine Company in Wisconsin circa 1910. Presented in custom oak and glass display case. Estimate: $2,000 - $4,000.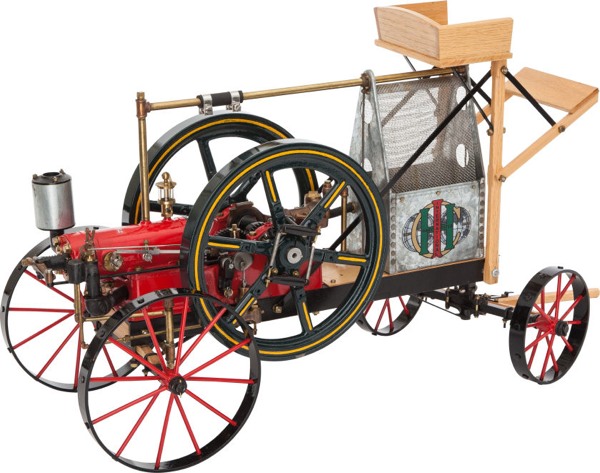 Havester. Finely built, scarce wood and metal 1.6 scale authentic model of the 'Famous' 4 HP hit and miss engine, with mechanical chassis, originally built by International Harvester in Chicago from circa 1906. Presented in wood and glass display case. Estimate: $2,000 - $3,000.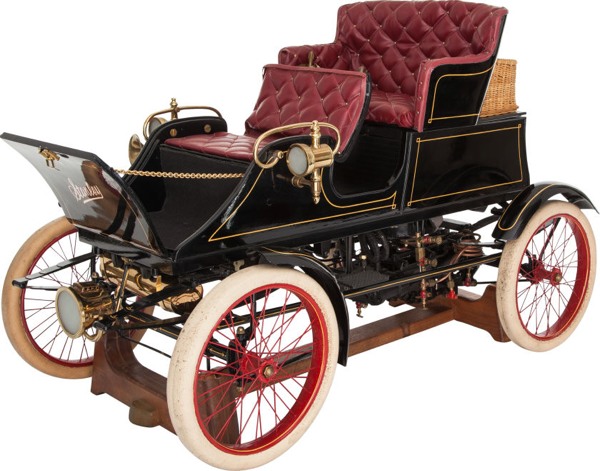 Stanley Steamer. Superbly detailed and engineered approximately 1.4 scale model of a circa 1905 two cylinder 'Stanley Steamer' after the original built by twin brothers Francis and Freelan Stanley in Newton, Massachusetts. The model is authentic in every detail including painted finish, controls, rubber tires and leather upholstery. Presented on wood stand to allow operation in place. Estimate: $4,000 - $6,000.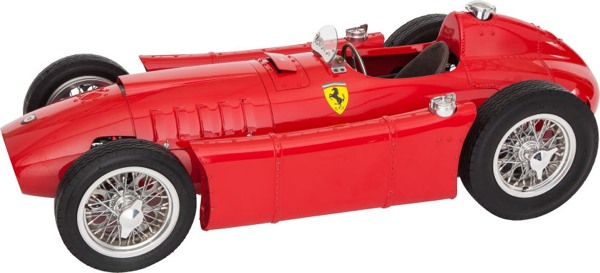 Ferrari Superbly built in Detroit by Ron Phillips and Jeron Classics, a limited edition exquisitely detailed hand-made 1.4 scale radio control Ferrari fitted with a single cylinder, fan-cooled engine made in Germany by Bernhardt GmbH, putting out 1.5 hp at 15,000 rpm and reputed potential top speed of 100 mph. Features include rear wheel drive through centrifugal clutch and driveshaft, hydraulic disc brakes, working quick action fuel intake, hand made wire wheels each with 36 spokes, semi-pneumatic rubber tires, wood-rim steering wheel and full instrument panel including working tachometer. The removable aluminum body is mounted on stainless steel chassis with full independent suspension from coil springs and tube shocks, perfectly finished in 'rosso corsa' with authentic Scuderia Ferrari decals. The engine cowling lifts to reveal both the engine and signature of Argentine racing legend and Formula 1 Hall of Fame member Juan Manuel Fangio (1911-1995) placed boldly on the underside. Fangio was World Champion with Enzo Ferrari's team in 1956, and beat this car a year later racing with Maserati. Presented in custom wood and glass display case with table base. Estimate: $5,000 - $7,000. Discuss
Next post