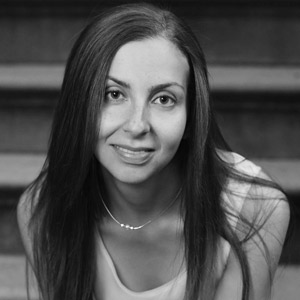 In each episode of Gweek, Dean Putney and I invite a guest to join us in a discussion about recommended media, apps, and gadgets. Our guest this week is Maria Konnikova. She's the author of the New York Times best-seller, Mastermind: How to Think Like Sherlock Holmes and a contributing writer to The New Yorker, online, where she writes a weekly blog focused mainly on psychology and science. Her writing has appeared online and in print in The New Yorker, The Atlantic, The New York Times, Slate, The Paris Review, The Wall Street Journal, The New Republic, The Boston Globe, WIRED, The Smithsonian, Scientific American MIND, and Scientific American, among numerous other publications. She formerly wrote the "Literally Psyched" column for Scientific American and the popular psychology blog "Artful Choice" for Big Think and is currently. She graduated from Harvard University and received her Ph.D. in psychology from Columbia University. She lives in New York City and is currently working on her second book, The Confidence Game, on the psychology of the con, and completing her first novel.
Thanks to our sponsors:
Stamps.com. Print U.S. postage right from your computer and never go to the Post Office again. Click here for a special $110 offer!
And Harry's quality men's shaving products. Go to Harrys.com and use the promo code BOINGBOING to save $5 off your first purchase!
Here's what we talked about:
Maria:
Don't Point That Thing at Me, by Kyril Bonfiglioli. I've recently discovered his work and it is brilliant and hilarious.
The Magician's Land, by Lev Grossman. Out in August. A conclusion to the trilogy that more than lives up to the first two.
The Gist, Slate's new podcast, with the wonderful Mike Pesca.
Dean:
Mark:
The Outfit, by Richard Stark. In the 3rd Parker novel, Parker goes up against the mob.
You can help Gweek immensely by subscribing to Gweek via iTunes (even if you use another service to listen to Gweek) and writing an honest review there. Thanks!
GET GWEEK: RSS | On iTunes | Download episode | Stitcher
[Image: 4-leaf clover CC BY-SA 3.0 Joe Papp]
Published 11:46 am Thu, Jun 5, 2014
About the Author
Mark Frauenfelder is the founder of Boing Boing and the founding editor-in-chief of MAKE. He is editor-in-chief of Cool Tools and co-founder of Wink Books. Twitter: @frauenfelder. His new book is Maker Dad: Lunch Box Guitars, Antigravity Jars, and 22 Other Incredibly Cool Father-Daughter DIY Projects
More at Boing Boing
Unlike some of its stablemates, the Amazon-owned comics platform is to allow authors and publishers to distribute their work without the shackles of proprietary rights-management, writes Cory Doctorow
Twenty years ago, William Barker's Schwa artwork revealed a world of alien abductions, stick figure insanity, conspiratorial crazy, and a hyper-branded surveillance state. It's now more relevant than ever.