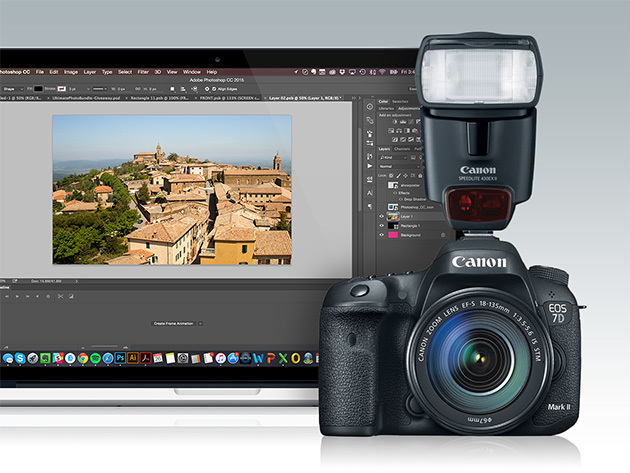 You're never not snapping. You're the one taking pictures of your delicious food at restaurants, your couple friends smooching, your dog's adorable snuggles, the trees and flowers when the light behind them is just right. The moment was born to be captured and you've got your phone or camera out to make it happen. Right now for free you can enter to win this Ultimate Photo Bundle Giveaway which can stock you up with all the gear and tech you need to snap every image perfectly. Upgrade your pic game from a smartphone to a brilliant camera.
You'll strap on one of the best cameras in the world. The Canon DSLR is the industry standard and snaps gorgeous images with unparallelled quality and you'll learn the ropes of how true professional photographers operate them. Also included here is a Canon Speedlight Flash so every scene is perfectly lit, day or night. Lastly, you'll get a one year subscription to the Cadillac of photo editing suites, Adobe Photoshop and Lightroom. With that software at your fingertips your images will be simply gorgeous.
This bundle is the beautiful combination of the right moment, a great eye, magnificent tools and the power of technology to all come together to create a perfect picture. Even if you don't know much about photography, this bundle will get you started down a professional level path and it's completely free to enter.
Can't get enough photography?
Check out these other awesome deals that will have you pointing and shooting away. The LytroGen camera captures an astounding 11 million light rays in every picture, making every image pop for 49% off now. And if you want to learn more, the Hollywood Art Institute is offering a photography certification course for 99% off that will have you framing and shooting like a professional. Get both of these deals in the Boing Boing Store today!