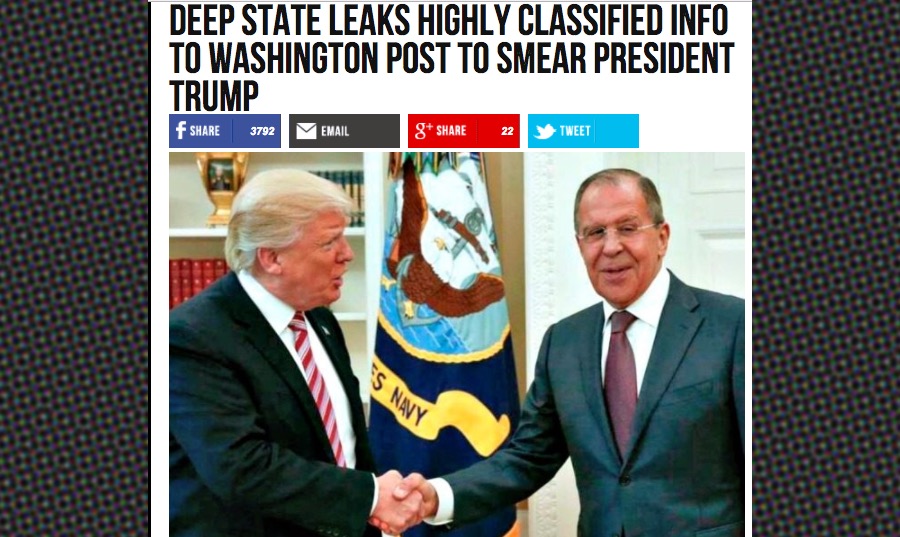 Donald Trump's white supremacist peanut gallery is scrambling to deny the reality of today's bombshell revelation the President shared highly classified information with Russian officials during a bizarrely timed White House visit the day after Trump fired FBI director James Comey.
Shown above, Breitbart.com's response to the revelations about last week's weird Trump-Russia huddle.
The Washington Post's initial report on the White House security breach has since been confirmed by CNN, Buzzfeed, NPR, The Failing New York Times, and other liberal shitrags controlled by The Jews, no doubt.
"Looks like more 'fake news,'" tweeted the ever-loathesome Trump apologist Sean Hannity of Fox News.
Other hosts on Fox News, the cable news network which provides the most favorable coverage to Trump, also appeared to downplay the story. During the shows hosted by Martha MacCallum and Tucker Carlson , several segments strayed from the bombshell news and were instead devoted to controversies on college campuses, an unusual editorial decision given the magnitude of the Post's story.

On the Fox News website, the news was buried low on the homepage. After seeing the outlet's online coverage, a longtime Fox News employee even reacted in shock, with a single word: "Wowza."
Pretty depressing. But don't lose hope, here's the Huffington Post's tabloid take.