Last month I asked my friends to write about books they loved (you can read all the essays here). This month, I invited them to write about their favorite graphic novels, and they selected some excellent titles. I hope you enjoy them! (Read all the Great Graphic Novel essays here.) -- Mark
West Coast Avengers, by Steve Englehart and Al Milgrom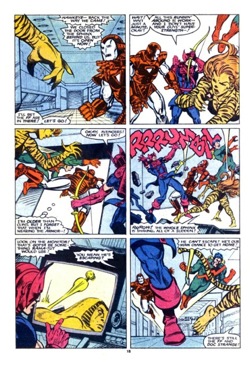 TIME magazine chose to put the money quote from Richard Schickel's review of Raiders Of The Lost Ark right on the cover:
"A MOVIE MOVIE!"
Was there any need to say more? It's a perfect review, in three simple words. "Raiders" broke absolutely no new ground whatsoever. It was old-fashioned at its core. But it was engineered to hit every button that gives us pleasure as moviegoers. Here is a movie that reminds us of why we love movies.
West Coast Avengers -- the original 1984 four-issue limited series and the first 42 or so issues of the monthly that followed -- was "A COMIC BOOK COMIC BOOK!" And that's why it's one of my favorite series ever. It anticipated Marvel's current vogue for spinning off a popular logo into multiple franchises. The Whackos were formed when the New York team's leader decided to create a Los Angeles-based team, designated to handle "all threats west of the Mississippi."
It turned out that Earth and the Universe were both located somewhere of Indianapolis. It seemed as though every threat that affected the whole planet and every battle that involved warring alien factions was handled by the original East Coast team in their own book. The West Coast Avengers tended to tackle more manageable, down-to-earth problems. Things like an enormous walking, talking totem pole, and an organized crime syndicate whose leaders dress in bulky costumes representing the signs of the zodiac.
Read the rest