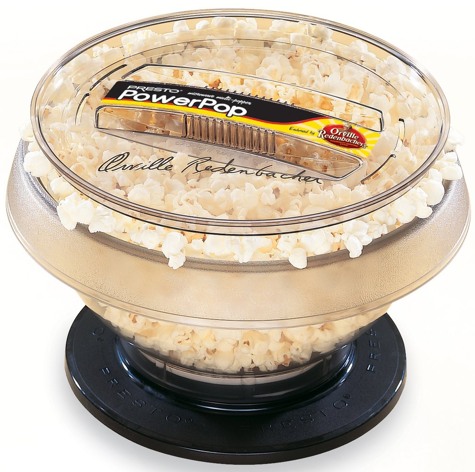 I do love popcorn, but usually don't like to pop commercial microwave bags in the office. Although their contents are delicious when popped, commercial microwave bags release a cloud of buttery esters into the local environment for all to smell. They have a TON of added fat and salt, and one has no control over the contents.
There's also a great deal of debate over the safety and stability of polyunsaturated fats in high-heat cooking, and corn popping is a very high-heat process.
Hot-air poppers aren't suitable for an office environment, and anyway I haven't found one that doesn't eventually make the popped corn taste like it came out of a hair dryer.
I have used the Presto Power Pop corn popper ($16) for at least a decade, and found it to be an excellent solution to light snacking in the office. It doesn't smell strongly of anything but the corn, and that can be controlled by keeping the lid on until I'm back at my cube. I can control the amount of salt or oil I use, if any. It acts as a serving bowl for the popcorn, and is easy to keep clean once emptied. It does an excellent job of popping most of the corn, even in lower-power microwaves. It typically will pop a batch in under two minutes, not three to four like commercial bags. (Which makes one wonder how much of the mass inside commercial bags is popcorn, and how much is just colored fat.)

Read the rest