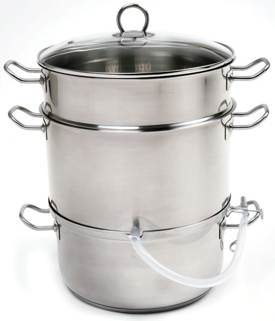 This is a lifetime piece of kitchen equipment, made in Finland of quality stainless steel. With almost no mess or work, it turns quantities of fresh fruit into clear, sterile, hot juice which you can then pipe directly into Mason jars, where it will self seal with no further processing.
Picture a multi-layer double-boiler sort of arrangement, the size of a big soup pot. All stacked up, it's 16″ high, and about 12″ across. The lowest pan gets water in it, to boil for the steam. The topmost pan is a 10.5 quart colander basket, where you put the fruit; this has a lid. The middle pan looks like an angel-food-cake pan, with a conical hole in the center. This is where the juice collects.
In a brilliant move, they attached a hose to the lower part of the juice-collector pan. This has a spring clamp to close it off, which clamp also serves as a hook, to park it on one of the side handles when not in use.
Read the rest