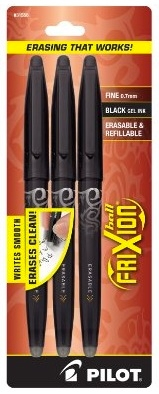 Frixion erasable pens are hugely popular in Japan, but relatively unknown in the States. I didn't even hear about them myself until 2012, though the product has existed for 5+ years.
Frixion pens are not the smearing horror pens that you may have used in school — the ink is not rubbed away — it actually becomes invisible when heated with an erasing motion of the rubber tailcap. No eraser dust is generated.
This pen allows me to take correctable notes at work at the speed and detail I desire, yet have the text be dark enough that the resulting documents can be read when scanned.
Read the rest