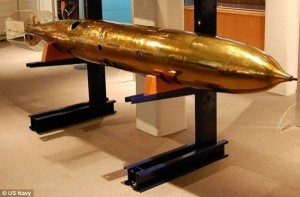 Two US Navy dolphins discovered an antique torpedo off the coast of San Diego, CA. The Howell torpedo is one of 50 produced, remarkable as it is the first locomotive torpedo developed and was fly-wheel powered. Surprisingly this marks the 24th recovered!
Check out HNGN for the story:
An early naval torpedo was discovered deep in the ocean by two Navy dolphins in the coast of Coronado, California. According to the Los Angeles Times, it may have failed to detonate 150 years ago.

"Dolphins naturally possess the most sophisticated sonar known to man," the U.S. Navy Marine Mammal Program's website explains. Using animals "can effectively replace a full-sized naval vessel and its crew, a group of human divers, and the doctors and machinery necessary to support the divers operating onboard the vessel."