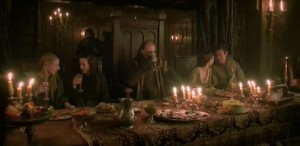 The latest episode of Game of Thrones was pretty much business as usual. It turned out Walder Frey was ready to let bygones be bygones, and a lovely wedding feast was held for Edmure and Roslin. Wine flowed, and music played.
I mean, they played the Lannister family song at a Tully wedding, which I thought was pretty rude. It's like, why are they playing that song?
Why are they playing that -- oh.
You should definitely watch the episode before you read this recap. I really mean it this time. If you read recaps of things you haven't read or seen and then complain about spoilers, I hope you marry a Frey.

Read the rest