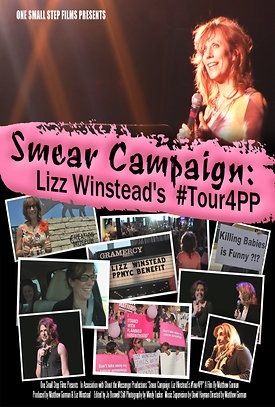 [view trailer] In 2011, women were doused with hate speech and horrible legislation with the same relentless intensity people use when hosing down two dogs humping.
That's when I joined the front lines of this war on women.
I had been in my hometown of Minneapolis writing my book and had to get back to Brooklyn. I figured if I was already driving back to Brooklyn, why not do as many benefits for Planned Parenthood as I can along the way? My goal was to say, "Hey, Planned Parenthood, you've helped me so guess what? I am here for you."
I immediately assembled an amazing team of people to help me on this journey: Maggie, an old friend who had years of experiencing booking rock bands, immediately got six cities on board; my photographer buddy Mindy Tucker, who took off work and joined us in Minneapolis; and my friend and badass Canadian Film Director Matt Gorman, who was there for protection, but also to film everything.
I was excited, but I was also scared of what these anti-choice psychos had become. Would they come after us? I was definitely glad to have Matt along. After all, I was about to become "the abortion lady."

Read the rest