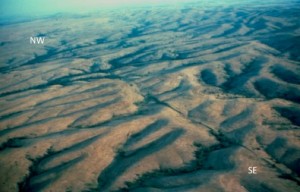 The Meers fault in Southwestern Oklahoma.
There were 179 earthquakes in Oklahoma in just the last 7 days. Which is crazy. What's more the frequency of earthquakes in the state has dramatically increased since 2004. What was once a freak occurrence has become so common that I'm now more accustomed to hearing about earthquakes from family in Oklahoma than from friends in California. So what gives?
Earthquakes happen all the time in places where you don't expect earthquakes to happen. If you read an interview I did in 2010, you'll learn that Oklahoma does have plenty of faults and the state has been recording earthquakes since anybody started keeping records. The ground shaking at all: That's completely normal. This sharp increase in frequency and size of quakes, though, is weird. Last October, the Oklahoma Geological Survey released the results of a study that suggested these changes in how Oklahoma experiences earthquakes are different from what you'd expect as a part of natural variation.
Read the rest