Visitors to the ITP spring show were greeted by a sign designed by Trent Rohner
As a graduate student at NYU's Interactive Telecommunications Program, I'm constantly surrounded with astounding creativity from my fellow students, who come from a wide array of disciplines. I'm working among musicians, architects, archeologists, lawyers, designers, physicists, and much more. Our commonality is that we all want to use technology in creative ways.
Twice a year, ITP opens its doors to the public for a gallery-style showing of the best student work from the semester. It's a chance for non-ITP'ers to get a small taste of our flavor of creativity and a feeling for what we're all about. The ITP Spring Show wrapped last week and was a huge success. Before the show opened, I ran around the floor and took photos of a few projects that give a good idea of what the program is about.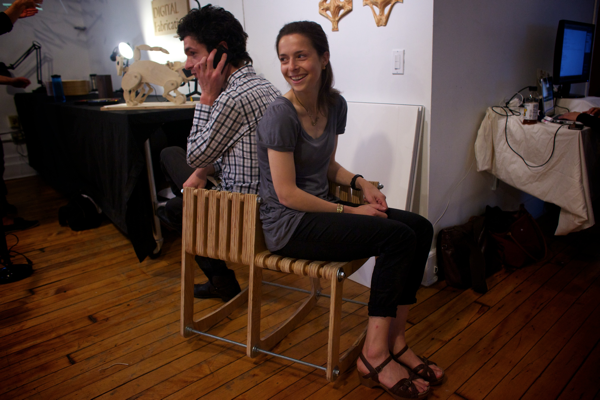 I'm sure a rocking chair is not what you'd expect to see from a technology program. But Chairish, Annelie Berner's rocking chair for two is the work product for a class called Design for Digital Fabrication. Using CAD software, Annelie went through many design and prototyping iterations. Eventually, she cut the design out of plywood with a computer-controlled (CNC) router. The pieces are held together with threaded rod and nuts to make a chair for sharing.
Read the rest