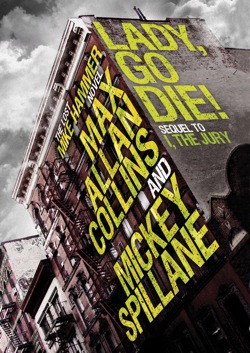 I grew up reading Mickey Spillane novels and, years later, was lucky enough to get to know the man behind Mike Hammer. Mickey and I did a number of projects together -- co-editing anthologies, creating the comic book Mike Danger, plus my documentary, "Mike Hammer's Mickey Spillane" (1999 -- available on the Criterion DVD/Blu-ray of the great film noir, Kiss Me Deadly).
About a week before his passing, Mickey called to ask a favor. He was very ill and knew it. He was working on what would be the last Mike Hammer novel, chronologically -- The Goliath Bone, Mike taking on terrorists in post-9/11 Manhattan.
Mickey had been working hard on Goliath Bone but was afraid he wouldn't have time to finish it. If need be, would I step in? Then a few days later, he asked his wife Jane to turn over any unfinished material from his several offices to me, saying, "Max will know what to do."
All told there were half a dozen substantial Hammer manuscripts among a wealth of unpublished, unfinished material. I began with Goliath Bone, and followed with a mid-'60s novel, The Big Bang, and a '70s one, Kiss Her Goodbye.
But the most exciting discovery was the earliest of the manuscripts, brittle, yellowed pages that I had initially set aside, thinking it was a draft of the published novel, The Twisted Thing (1966).
Reading the manuscript it became clear that -- apart from having some character names and the setting in common with Twisted Thing - this was a wholly different story. This was the second Mike Hammer novel, the sequel to the famous I, the Jury. The manuscript of Lady, Go Die! dated to about 1945, in fact two years before I, the Jury was published itself.
Buy Lady, Go Die! on Amazon
Read an excerpt from Lady, Go Die!