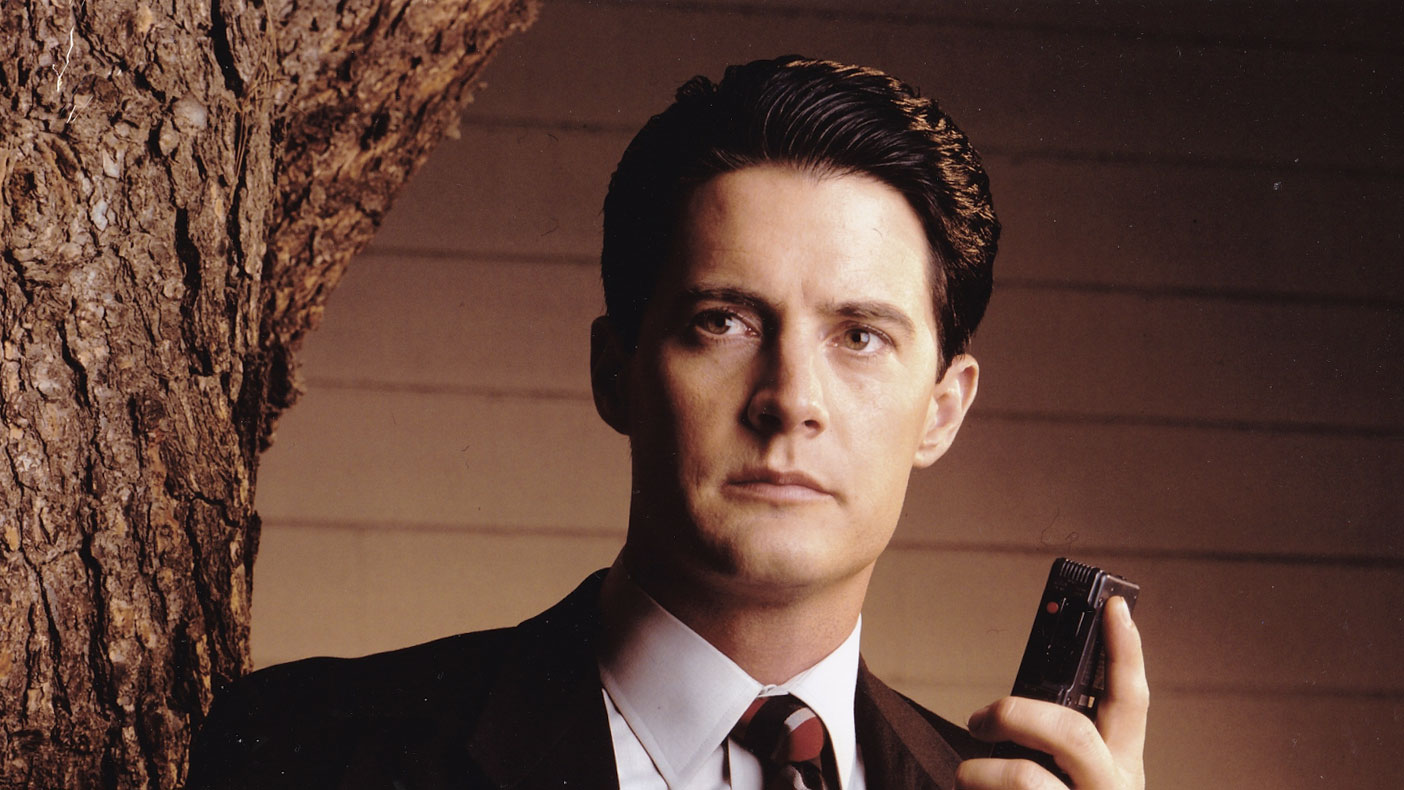 Theresa DeLucci wonders what form the revived series will take when it hits screens in 2016.
Read the rest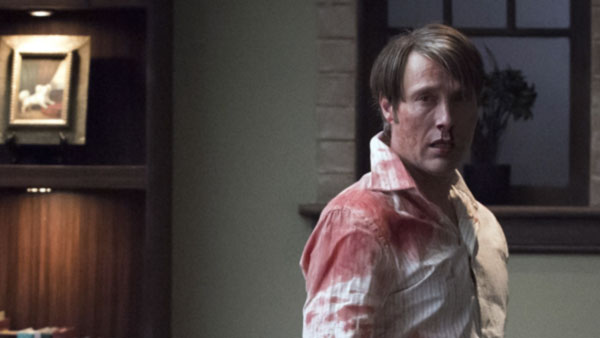 Everybody is invited to the table in Hannibal's bloody season-two finale. And Theresa DeLucci does mean everybody. She loves a good surprise–or five.
Read the rest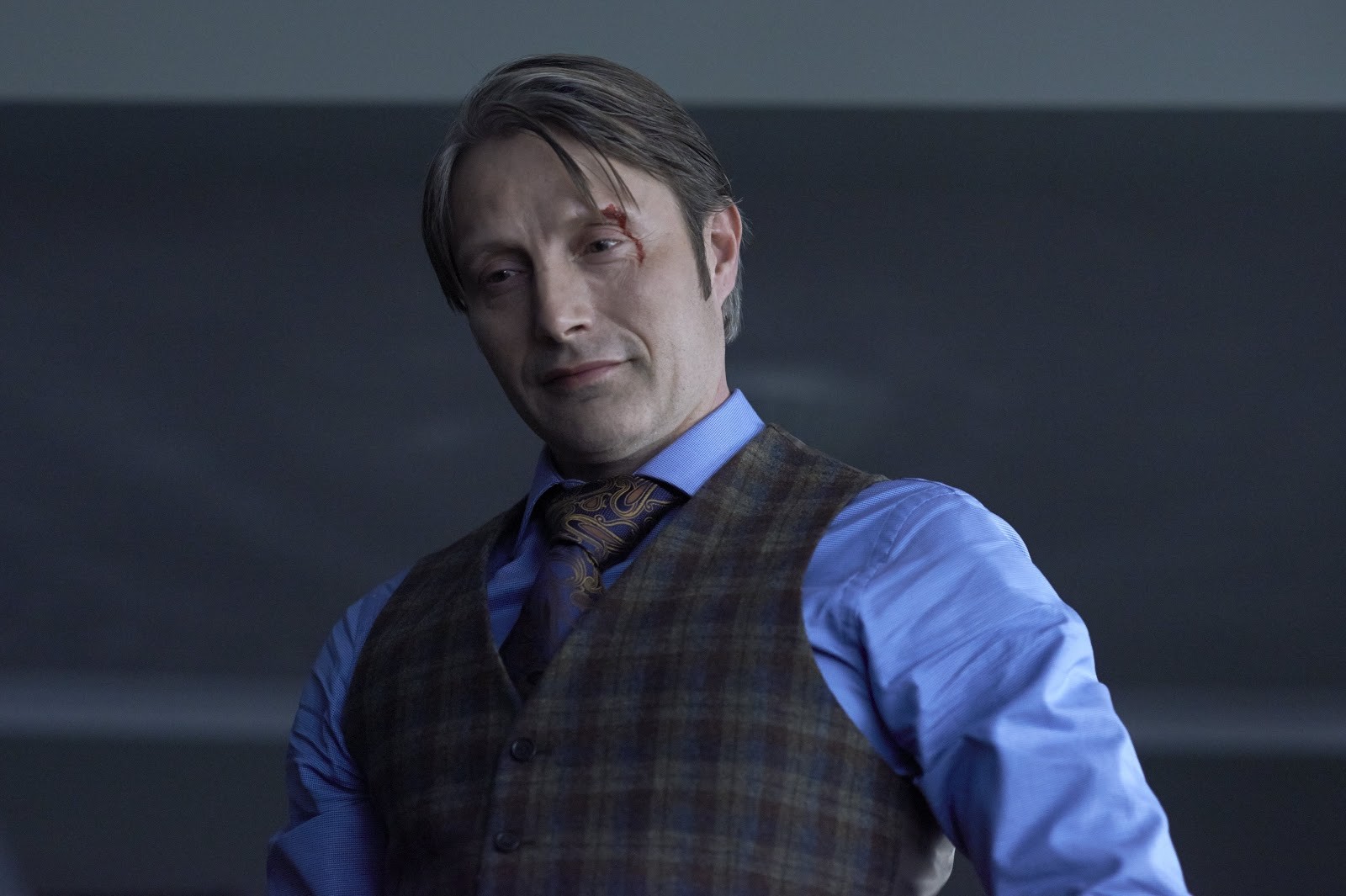 A classic moment from the Lecter legendarium hits the small screen. Theresa deLucci reviews the latest episode.
Read the rest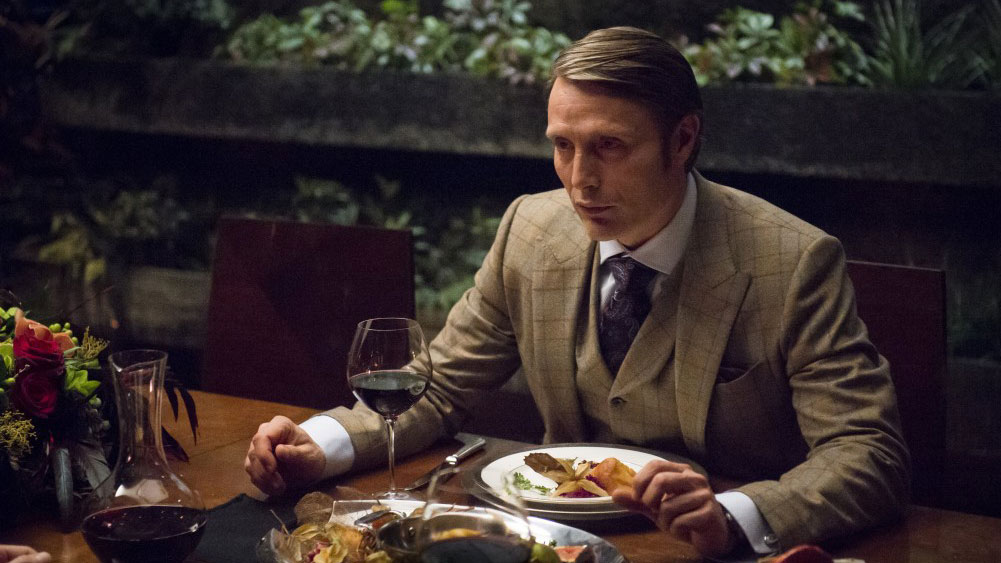 Theresa DeLucci reviews Ka No Mo, wherein our two favorite psychos' mutual obsession becomes too much for both of them.
Read the rest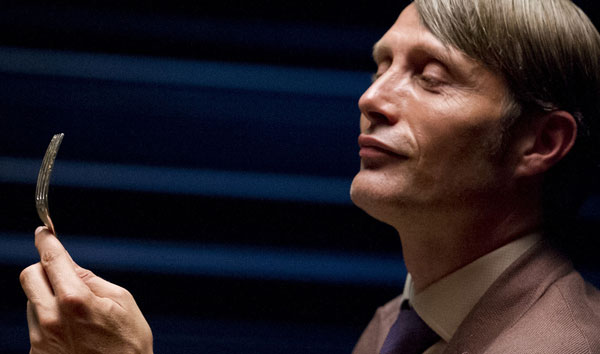 "Boundaries will always be subject to negotiation," Alana tells Hannibal. It's almost like she's watching this show.
This week's offering was another "palate cleanser" course in Japanese cuisine and that slice of ginger became much, much more literal. Yet "Naka-Choko" seems to be a retread of last week's themes -- the growing intimacy between Will Graham and the serial killer he's trying to snare as well as Will's further descent into his psychological darkness. After Dr. Lecter sent his former patient Randall Tier to basically get murdered by Will, we saw Will fully commit to his role as the bad doctor's star pupil. We saw Will cross that line last week and, naively perhaps, thought the journey ended there. But in a show with cannibalism at its grim heart, there's always room for more.

Read the rest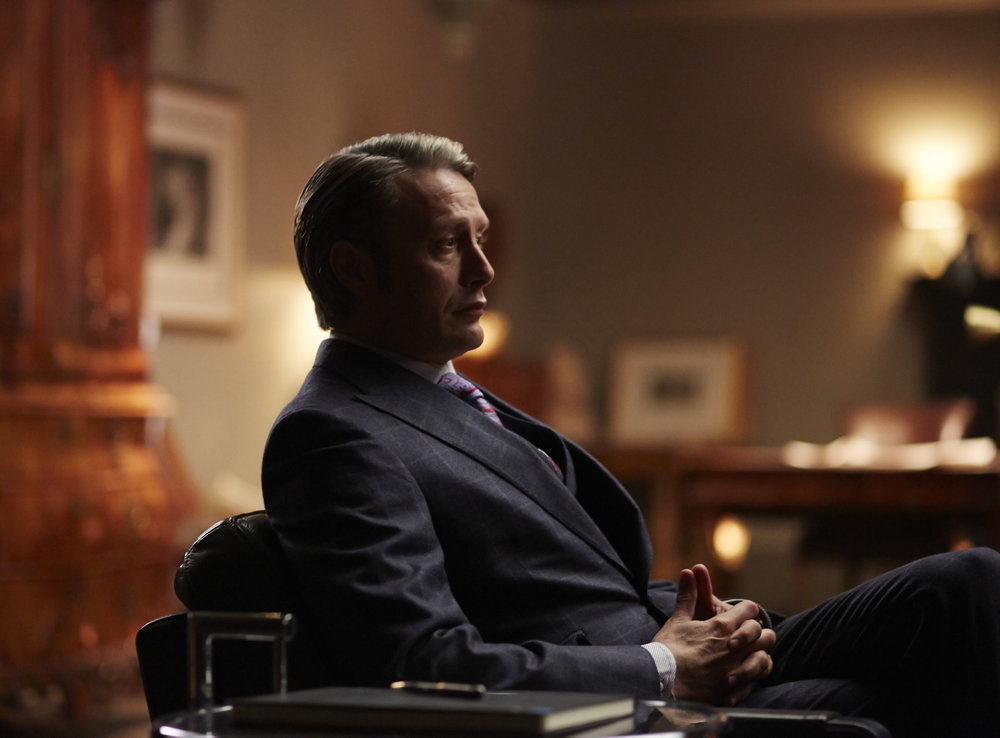 Analogy: it's what's for dinner. While last week's episode of Hannibal saw Dr. Lecter and Will Graham reflected in a pair of men with a similarly corrupted power dynamic, "Shiizakana" compares Will's inner animal with another hungry beast borne of Hannibal's unique therapy. The hour moved quickly, but wasn't quite my favorite outing of the season. It felt a bit like more set-up (or wheel-spinning if you want to be rude) as we see the finale shimmering on the horizon. Or maybe I'm just impatient because I want to see exactly how Will and Jack land their prize trout.

Read the rest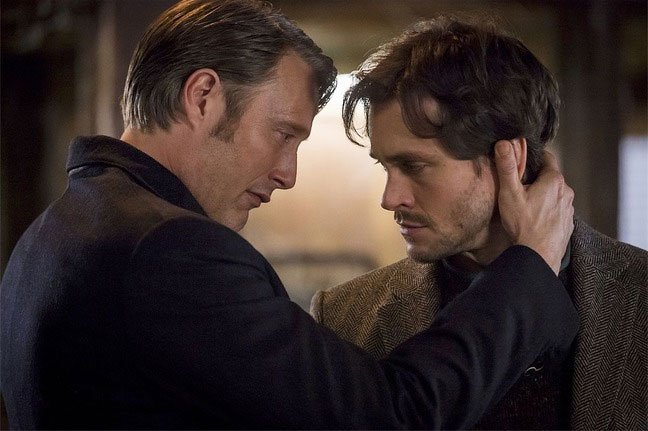 In an episode named after a Japanese palate-cleanser, there certainly wasn't a lot of refreshment to be found among (or within) all the dead horses, Nietzschean fish and damaged souls that this hour contained.
Instead, "Su-zakana" opens a new and final book of the season, introducing a new paradigm for Will and Hannibal's very distorted friendship. Hannibal doesn't realize how apt a metaphor the trout he served to Jack and Will really were. They were eating their own tails, much like Will hopes Hannibal will; by using himself as live bait to draw the doctor in with seductive promises of what Will might reveal in therapy, Hannibal's own curiosity will be what brings him down.
To be an effective lure, Will's also trying to hide in plain sight, using honesty as a cover for his deeper lie. So we get awkward dinner conversations about who accused whom and who tried to have who killed first. It's enough to make you wish Margaery Tyrell would show up and exclaim "Oh, look! The pie!" Only this is Hannibal, so the pie would be made out of dead people instead of dead pigeons.

Read the rest
Characters are dropping like… well, like characters on a televised serial killer drama, I suppose.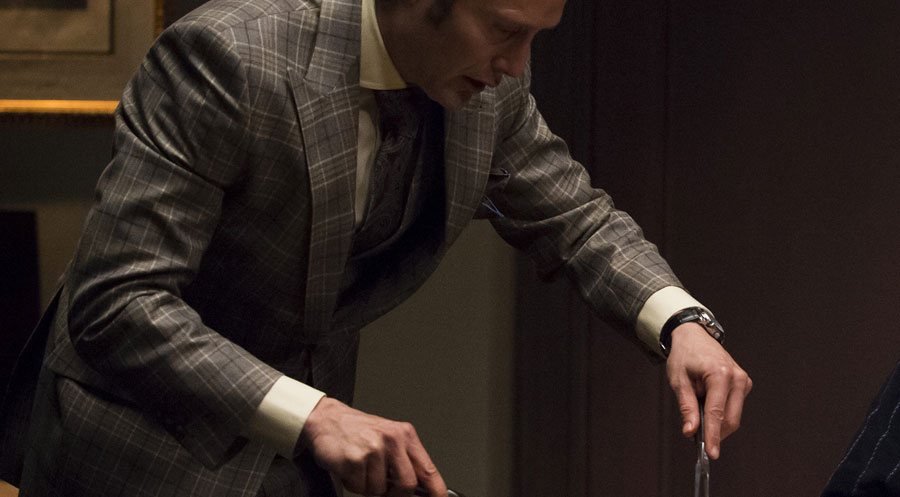 For those keeping track, futomono is the course in a Japanese kaiseki meal that consists of a lidded dish. Keeping the lid on Miriam Lass until the last minute of an episode that was already a feast of sadistic twists, morbid whimsy, and incredible food porn was a real treat.

Read the rest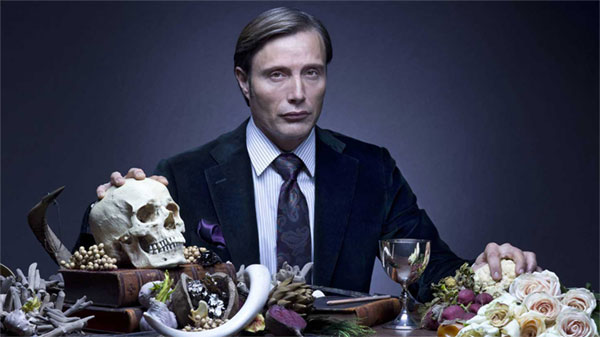 This is the second time since the premiere that we've opened Hannibal with a visual juxtaposition of how similar yet different Will Graham and Hannibal Lecter are. This go round it was meal preparation. Some slices of Beverly Katz as the cornerstone of a healthy sadist's breakfast. Will can brood in his prison cell and retreat to his memory palace and toy with Dr. Chilton and even get all strapped into an iconic mask for a prison transport, but Will is no Dr. Lecter.
We know this. Will insists he knows this, but I think this episode was the first time Will, in all his new found clarity, knows he could be Dr. Lecter if he wanted.
Read the rest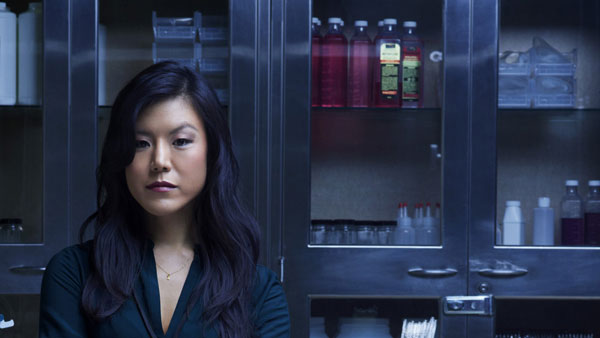 After the relative quiet of last week's episode, "Takiawase" threw one punch after another, with a few eyeball kicks to round the hour out. There was cause for screams, squirms, giggles, and tears in a perfect, poignant counter to any lingering accusations that Hannibal is empty gore for gore's sake.

Read the rest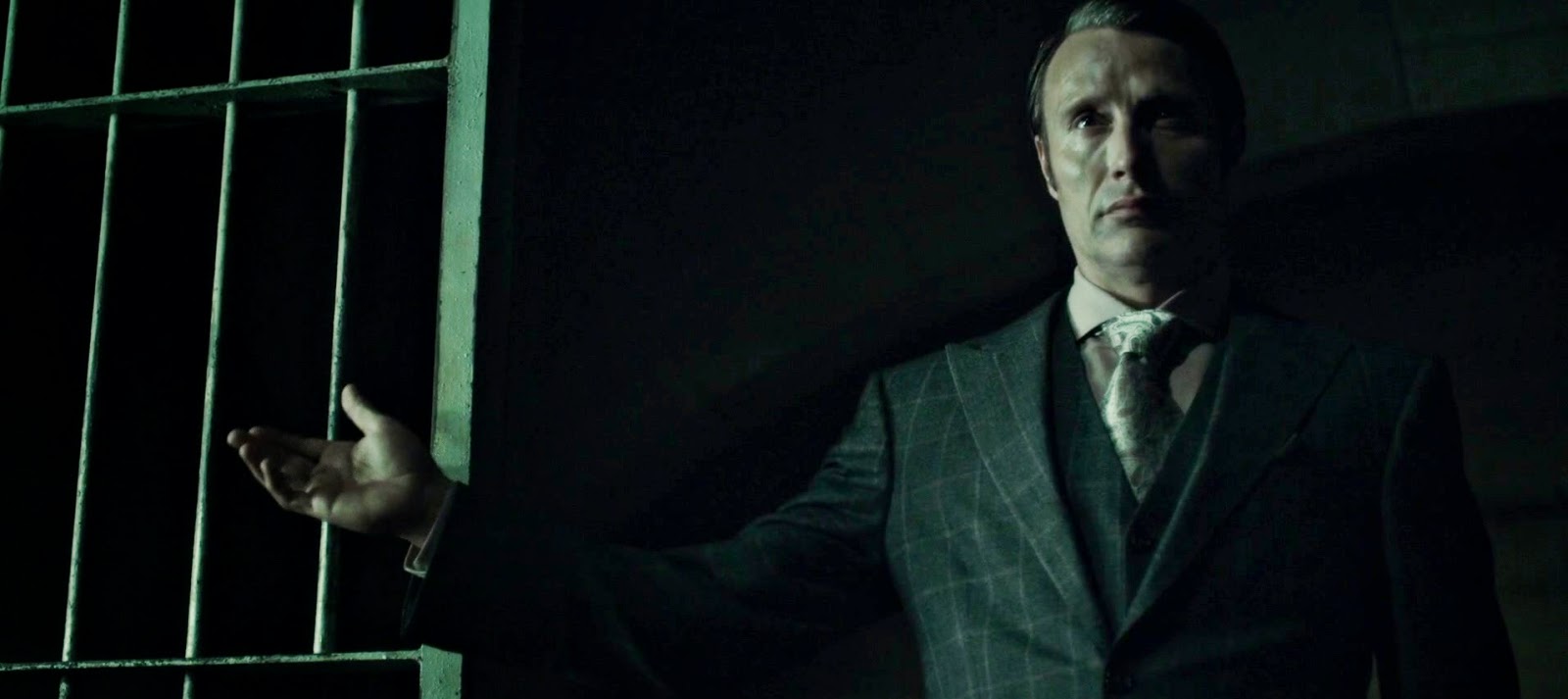 The trial of Will Graham gets off to a bloody start in this week's episode of Hannibal.
We open with a disorienting dream of Will BBQ'ing himself in an electric chair, then get a mirroring scene, set in reality. The morning of the trial's opening sees Hannibal and Will suiting up for the day in their contrasting homes. A well-appointed room, a dungeon cell. Cufflinks and handcuffs. It was a pointed visual reminder of how connected these two intelligent psychopaths are. For the whole hour, we see witnesses on the stand talking about Will—but the subject could just as easily be Hannibal. Because, after all, we know it was Hannibal, "the smartest person in this room." I loved and hated Hannibal's secret little smirk: his weaknesses are really showing. If Mads Mikkelsen is playing Lecter as the Devil, then he's doing a great job of giving us glimpses of the Devil's sin: pride.

Read the rest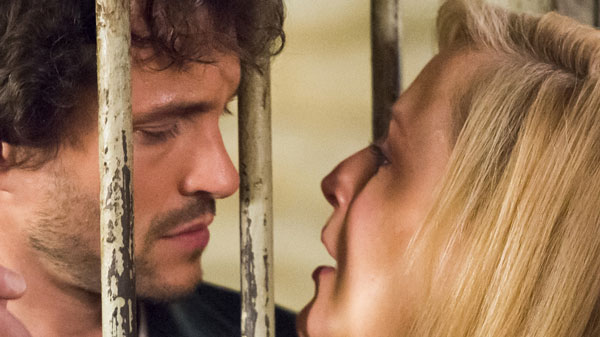 Hannibal's premiere hit the ground running, but it felt like half of an episode. We barely even met the "artist" behind the giant corpse-eye mural, because there was so much fallout from Will's incarceration. And this new artist still isn't much of a big deal in "Sakizuki," despite racking up the show's largest tableau to date. It's more of an elaborate metaphor.
And that's perfectly fine. Because this show isn't about a killer of the week. It's about Hannibal. And Will. And how both intelligent psychopaths manipulate the people around them to paint their own reflections. Of course, one is doing it to protect his terrible secrets (and the contents of his fridge.) The other is trying to prove his innocence. But make no mistake – Will must know that by directing attention onto Hannibal in his own way, he will be putting his friends at risk. As viewers, we saw at least Crawford's confrontation with Hannibal, but I'm most concerned about the immediate safety of Beverly and Alana.
Read the rest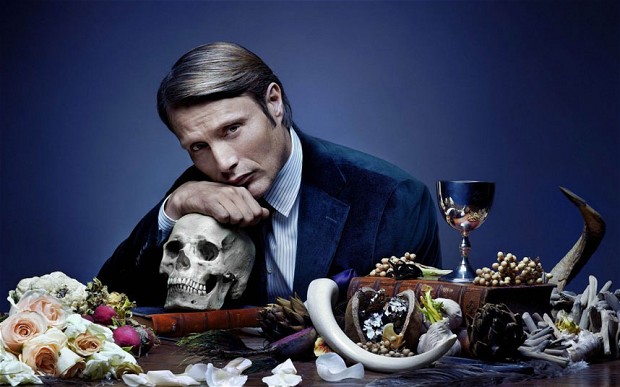 Mikkelsen's civilized serial killer returns for another season of Hannibal. Theresa DeLucci takes a bite out of the show's mad metaphors.
Read the rest