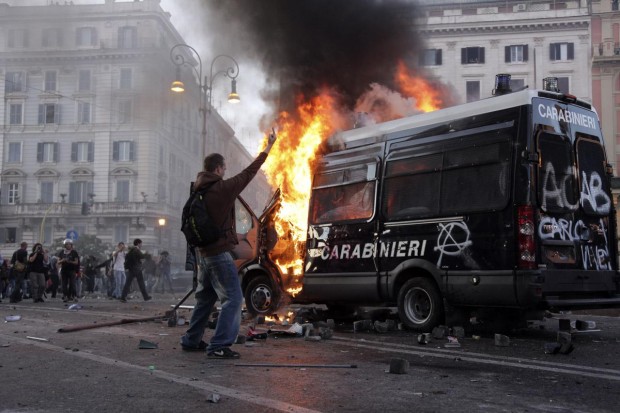 Photo: La Repubblica, Italy
That is the graffiti in one of the destroyed streets in this Saturday's "indignati" demonstration. It ended in violence against the police, city security, and last but not least the pacifist organizers of the manifestation, in tune with the world wide movements OCCUPY.
The graffiti sounds like some epic motto of ancient Rome when power struggles burned palaces, libraries, and streets.
Roman life may not be too different after all, except that 2000 years later, we somehow believe that those conflicts should be resolved without arson. Maybe we are wrong. Maybe the fact that people are organized using web networks does not free them from timeless forms of treachery and palace intrigue, or the manipulation and destruction of good political intent.
Anyway, after the mayhem, the search was on for the hooded arsonists, organized through the Internet and through private video shots by participants.
Italy remembers very well the violent "Years of Lead" (late 60's to early 80's), when red and black terrorists planted bombs in public places, blasting innocent citizens in the name of their distorted concept of supreme justice. For years they rampaged beyond the reach of police, courts and other institutions.
Even today, after many years, some cases of public terrorism have not been resolved. Books have been written by important authors to explain the supposedly important difference between a red and a black bomb detonated in public. The Nobel prize authors Dario Fo wrote a play where he showed how easily the police could frame anarchists for terrorism, killing them by legal means. There was a famous question about crime: a chi giova, who profits from it?