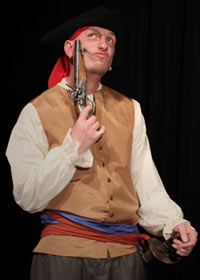 Meet Richard Nolan: quartermaster of the Whydah, captain of the Anne, former coworker of Blackbeard—in general, pirate. He is also—at least through Labor Day—my friend Butch Roy.
Butch is an actor, a founder of the Twin Cities Improv Festival, and the executive director of Huge Theater here in Minneapolis. This summer, he took on a new role, playing pirate Richard Nolan in the Science Museum of Minnesota's Real Pirates exhibit.
When I first heard about Real Pirates I wasn't terribly excited. It sounded like the sort of kiddie-friendly, fact-lite thing that I tend to avoid on museum trips. I mean, for god's sake, there were actors running around going, "Arrgh," at people. But then I got a chance to talk to Butch about what, exactly, he was doing in the exhibit—and what it took to prepare for the role.
Butch and his cohorts aren't just playing pirates—they're playing real, documented people. What's more, all the actors had to build their characters from the ground up, using original historical sources and doing a lot of extra research on their own. They had to learn the skills of a pirate and the skills associated with their specific role on the ship. Butch, at least in theory, now knows how to load and fire an 18th century cannon. His fellow actor Michael Ritchie, who plays ship's surgeon James Ferguson, is up-to-date on all the latest medical research and techniques, circa 1717. The sheer volume of historical information Butch has picked up is absolutely fascinating.
I have no idea whether or not the actual exhibit, Real Pirates, is worthwhile as an educational tool. But you should DEFINITELY find one of the pretend pirates and take them out for a beer.
Read the rest