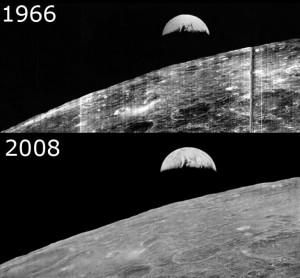 The
Lunar Orbiter Image Recovery Project
(LOIRP) was started by Dennis Wingo and Keith Cowing in 2008. They obtained the original analog tape drives from lunar missions in the '60s, which were literally covered in dust in a farmer's barn, and they also got their hands on a complete collection of Lunar Orbiter analog data tapes that held a full set of all images carried back to Earth by the five spacecraft that flew between 1966 and 67.
Amazing, historic stuff. But all of these old media formats are fragile, and preservation can be a long and tedious process.
Cowing and Wingo funded the archival effort themselves in the beginning, then secured some funding from NASA. But the NASA funding was modest, and has run out; the guys have been funding the project themselves, and they don't have the resources they need. They have exceeded the requirements of NASA's funding, but just haven't been able to retrieve and digitally archive all of these irreplaceable historic space images—yet.
So they're crowdsourcing funds on RocketHub. They've raised about 1/3 of their goal at the time of this blog post, and they have only 5 days left.
Miles O'Brien did a "This week in Space" webshow episode about the project back in 2010; check it out above.
Below, more on the project from Cowing, who is also the guy behind NASAwatch.

Read the rest