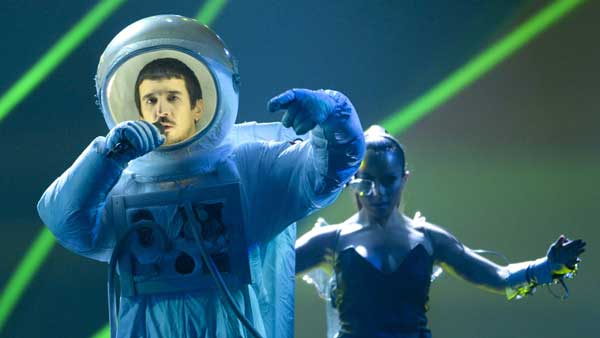 American expat Leigh Alexander has had her first Eurovision party as an embedded foreigner in London. It went well.
Read the rest
At The Atlantic, Joe Fassler votes for an infamous passage from Cormac McCarthy's The Road:
He started down the rough wooden steps. He ducked his head and then flicked the lighter and swung the flame out over the darkness like an offering. Coldness and damp. An ungodly stench. He could see part of a stone wall. Clay floor. An old mattress darkly stained. He crouched and stepped down again and held out the light. Huddled against the back wall were naked people, male and female, all trying to hide, shielding their faces with their hands. On the mattress lay a man with his legs gone to the hip and the stumps of them blackened and burnt. The smell was hideous.

Jesus, he whispered.

Then one by one they turned and blinked in the pitiful light. Help us, they whispered. Please help us.
The key, he adds: "What is revealed is even more terrifying that what I could have imagined."
Carl Djerassi, the chemist who first synthesized an effective oral contraceptive, is now an author and playwright.
Wired has a really interesting interview with him
about his writing work, his scientific legacy, and why he doesn't like to be called The Father of the Pill.
JC Herz sez "Ringling College of Art & Design, the #1 art school in the country for computer animation and game art and design (grads go to Pixar, ILM, and EA), just posted their 2011 commencement speech, delivered by yours truly. The speech is about how to run your life as a creative professional - hints, tips, and tricks for techie artists staffing the dream factory. Food for thought for anyone whose career requires coming up with new great stuff all the time."
Habits are powerful - people don't realize how powerful habits are, and how much of their success or lack of success in life is attributable to sheer habit. Be aware of your habits, and what is turning in from an occasional to a regular thing, and what are the regular things that you don't even think about any more, because they are so habitual that they have become invisible. Down to the very basics: how much and when do you sleep, what you eat, how you sit, whether you walk or bike or drive. When and where do you get your best ideas? What sorts of activities and conversations leave you feeling happier and smarter? What do you continually do that leaves you feeling demoralized. Be mindful of your habits. Make them intentional.
Ringling College Commencement Address
(
Thanks, JC!
)
Murisan sez, "Minnesota House Majority leader called author Neil Gaiman a 'pencil-necked weasel' that he 'hated' for earning $45K from a state arts fund for speaking at a library." The $45K in question was
specifically earmarked for bringing authors to suburban libraries, and Neil donated it to charity.
House Majority Leader Matt Dean said he reminded Urdahl of the "importance of making sure he has [Republican] caucus support" for Legacy funding for arts and cultural heritage projects, an area of spending that Dean acknowledged had rankled some Republicans. "MPR, it's safe to say, has been a concern in the past," said Dean.

Dean also singled out a $45,000 payment of Legacy money that was made last year to science fiction writer Neil Gaiman for a four-hour speaking appearance. Dean said that Gaiman, "who I hate," was a "pencil-necked little weasel who stole $45,000 from the state of Minnesota."
GOP targets Legacy funds for MPR, arts