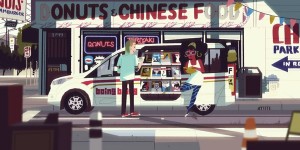 Boing Boing is building out a Happy Mutant Mobile! Can you please help? Our sponsors at Ford have agreed to customize, modify, and transform a 2014 Ford Transit Connect Wagon into what we (and you) imagine for a Boing Boing vehicle. Here are some of our ideas: Behind the vehicle's side door is a library of curated 'zines, books, and comix free for browsing. The rear doors open to reveal a cabinet of curiosities world of technology, science, and art. The cargo space is a mobile blogging/video studio for on-the-road interviews.
We have a slew of ideas that we'll show you over the coming weeks, and we bet you have even better ones! Please share them with us in the comments over at our BBS, on Twitter (#happymutantmobile), Facebook, or Google+. You can even email us or deliver via passenger pigeon. Doesn't matter if you describe it with a sentence, a paragraph, a drawing on a napkin, blueprints, a 3D model, or an interpretive dance. We're just excited to check out your most ingenious, creative, unusual ideas for how to remake the 2014 Ford Transit Connect Wagon into a Happy Mutant Mobile!
Over the next month, we'll pick some of our favorites, get them illustrated by our favorite artists, and post them to the site. We'll be selecting our first batch this coming Monday, December 2. If yours gets selected for posting, we'll send you a Boing Boing t-shirt! Whoever comes up with our absolute favorite idea will be invited to join us in person at the mod shop to see the actual work in process. It'll be an all-expense paid trip. Flights within United States only. Travel and expenses limited to $5,000 total. Posh. Where? Somewhere cool. We'll tell you later.
Below are the modification restrictions. We'll be taking out all of the passenger seats so there's plenty of room inside. Go wild. You're not paying for it. And you don't have to do the work yourself either.
Thanks for helping us make the Boing Boing Happy Mutant Mobile! See you on the road!

Read the rest