Wherein the Mind of God is shown through His words. [
Youtube
via
Arbroath
]
Previously
.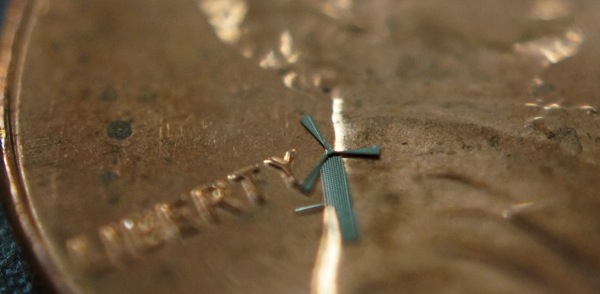 Above is a micro-windmill that University of Texas Arlington researchers suggest could someday be used to charge mobile electronics if they were embedded en masse on the device's case. The MEMS (micro-electromechanical systems) are fabricated using recesses similar to the way integrated circuits are manufactured combined with origami-like self-assembly techniques.
"Imagine that they can be cheaply made on the surfaces of portable electronics," says researcher Smitha Rao. "When the phone is out of battery power, all you need to do is to put on the sleeve, wave the phone in the air for a few minutes and you can use the phone again." She adds that eventually, flat panels coated with the windmills could be mounted to buildings to harvest energy for sensor networks, wireless communications, lighting or other purposes.
Check out the video below of the windmills in action! (via Wired)

Read the rest
A battery can hold a lot of energy, but it takes a long time to charge it. A capacitor can be charged very quickly, but doesn't hold a comparable amount of energy.
A graphene supercharger is the best of both: it takes just seconds to charge, yet stores a lot of energy. Imagine being able to charge your spent laptop or phone battery in 30 seconds, and your electric car in a few minutes. Also, unlike batteries, Graphene supercapacitors are non-toxic.
The Nobel Prize was awarded to the inventors of Graphene in 2010. Wikipedia defines Graphene as a "substance composed of pure carbon, with atoms arranged in a regular hexagonal pattern similar to graphite, but in a one-atom thick sheet. It is very light, with a 1-square-meter sheet weighing only 0.77 milligrams."
(via Tony Moore at the Boing Boing G+ community)