This modern reinterpretation of Bicycle's classic #55 Nautic deck is quite lovely.
The Ultimate Deck by Stranger and Stranger is one of the most impressive decks of cards in my collection. The luxurious design of each playing card is absolutely, without a doubt, the most over the top, detailed and decorative set of 52 that I have ever seen. Even the embossed box is exquisite and fun to hold.
Come on now. Just look at these things. Sure you won't be playing poker with them any time soon because they'd just be too distracting but you may want to individually frame them.
If you're a collector, you should own this deck. If you're not a collector…you should become a collector and then reread the last sentence.  
These have been created by the award winning design firm called Stranger & Stranger. They took a full year to design the cards and claim it's the most expensive deck to ever be produced...and I don't think anyone is arguing with them.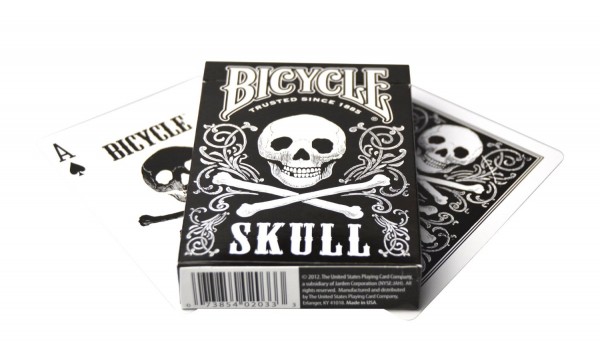 As skulls are a beloved design motif at Boing Boing, it is no wonder this deck quickly became a favorite!
The delightfully expressive, quasi-macabre faces on Bicycle's Tragic Royalty deck also glow under blacklight.
This steampunk-ish set of playing cards is excellent for practicing card magic.
Because purple is an awfully great color.
The oldest complete deck of cards in the world is from the distinctly-unhappy 15th century, and lives at the Metropolitan Museum of Art's Cloisters location. The oblong cards are nifty-looking—but what would people play with them?

Read the rest
The beautiful Spectrum deck, by Bicycle, with 52 different colored backs, is wonderful for magicians and terrible for card games.
The Borgata Hotel Casino & Space is suing World Series of Poker star Phil Ivey for nearly $10 million for using what they claim are "imperfect" playing cards that gave Ivey a leg up. Borgata is also going after Gemaco, Inc., makers of the playing cards. From NorthJersey.com:
The suit alleges that the some of the cards made by Gemaco turned out to not have a perfectly symmetrical design on the back of the card. Ivey, the suit claims, was able to figure out what the first card to be dealt was – giving him a significant advantage over the "house," or casino.

Ivey contacted Borgata officials in April 2012 and sought to play mini-baccarat for up to $50,000 a hand on the $1 million he would wire to the casino, according to the suit. Given Ivey's high-roller status, the casino agreed to his request that he would be given a private area in which to play as well as provided with a card dealer who spoke Mandarin Chinese. The casino also agreed to let Ivey bring a guest to the table as well, to provide one purple deck of Gemaco playing cards for use, and for an automatic card shuffling device to be used.

According to the suit, "The pretext given for some of these requests was that Ivey was superstitious."
"
Famed poker star Phil Ivey sued by Borgata for almost $10 million over alleged playing card scam
"
(Thanks, Gil Kaufman!)
The classic game of snap is made interesting to my 6-year-old daughter with these fantastic Gruffalo-themed cards.
Snap is a simple matching game and you can play with a regular set of cards, but the addition of the Gruffalo and other charters from Julia Donaldson's insanely popular children's story certainly adds a lot for us.
Deck of Gruffalo snap cards
The Gruffalo, a children's story by Julia Donaldson

While the name "ULTIMATE DECK" is a little off-putting, I'm rather fond of the illustrations on this deck of cards. At $25 a pack, it's a pricey way to play Go Fish, but if you think of it as a kind of secular tarot -- a deck of lovely, evocative pictures without the pretense of foretelling the future -- that's about par for the course.

The ULTIMATE DECK is a one-of-a-kind, luxury deck of playing cards showcasing stunning works of art on every card. It is the most expensive deck ever produced.

Featuring 54 unique works of art, and an elaborate back design. Packaged in a gorgeous tuck-case of extraordinary detail that incorporates embossed elements and foil accents. Each deck is hand sealed with a vintage-inspired tax stamp, perforated for easy opening.
ULTIMATE DECK (Thanks, Dan!)
MagicPeaceLove sez, "'Virtual Magician' Marco Tempest is a pioneer in fusing the magical with the technological and he blows it out of the water with this augmented card routine recently posted at TED. The routine is an updated version of a classic called 'Sam the Bellhop,' in which a clever narrative story follows random cards dealt face-up one-by-one from a shuffled deck. Tempest, however, spins a much more poetic narrative and the augmented reality element is a wonder to behold."
Marco Tempest tells the secret story of a deck of cards (Thanks, MagicPeaceLove)
Microcameras really change the security landscape. Case in point: a casino-cheating gang used a microcamera to capture footage of a baccarat deck as it was being riffled during the player-cut, and then got cues from an off-site analyst who ran the video in slow motion to get the deck-order.
After a few hands, the cutter left the floor and entered a bathroom stall, where he most likely passed the camera to a confederate in an adjoining stall. The runner carried the camera to a gaming analyst in a nearby hotel room, where the analyst transferred the video to a computer, watching it in slow motion to determine the order of the cards. Not quite half an hour had passed since the cut. Baccarat play averages less than six cards a minute, so there were still at least 160 cards left to play through. Back at the table, other members of the gang were delaying the action, glancing at their cellphones and waiting for the analyst to send them the card order.

The gang had just walked away from Macau, the largest gambling city on Earth, with millions. They took $100,000 from the Bicycle casino in Los Angeles only weeks after the Las Vegas run. The Cutters' scam did not require marking or switching cards, so casinos' card scans and tracking software was irrelevant. Security consultants say that the gang numbers about 70. (With so many players, facial analytic software is easy to beat.)
Spy vs. Spy: Casinos Can't See The Cameras Hidden Up Gamblers' Sleeves
(
via Scheneir
)
(Image: Baccara Palette, Wikimedia/Roland Scheicher -- public domain)